Araldite® 2015-1, Araldite® 2051 and Araldite® 2023, three new references adapted to the needs of the marine industry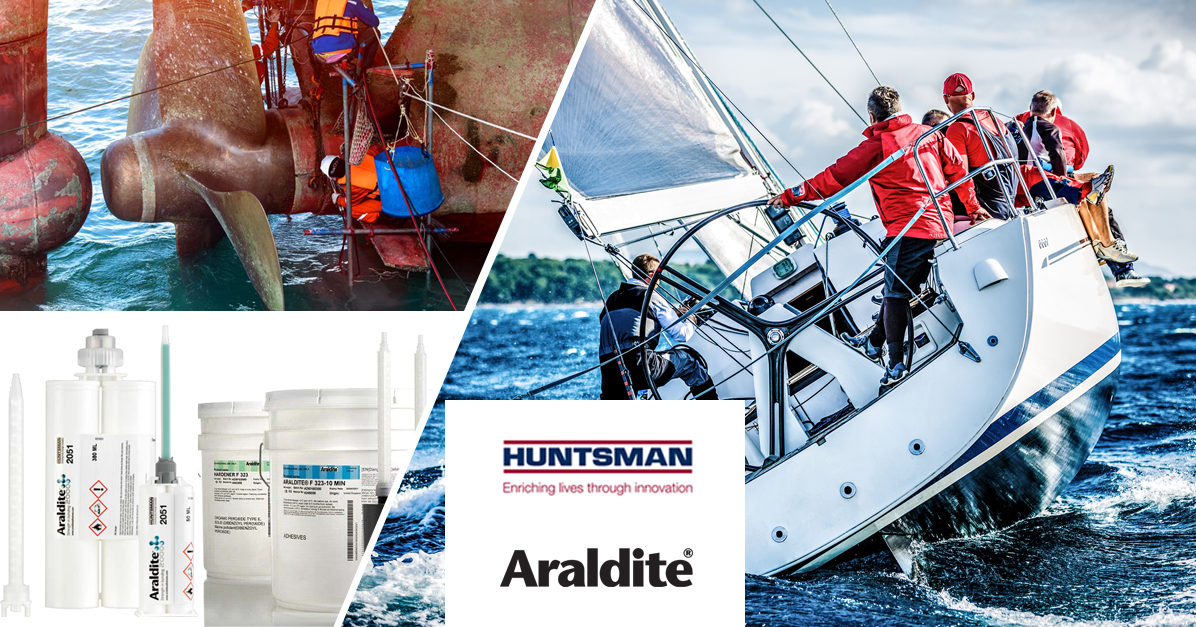 Structural bonding : new structural adhesives for marine industry
In marine construction, assembling structural elements of the boat together is essential. The use of structural adhesives ensures the durability of the joints,
where reliability and resistance to mechanical stresses of bonded connections are crucial.
Structural bonding offers a real advantage over mechanical fasteners and composite lamination in the marine industry : it often allows assemblies to be carried
out more quickly, and to reduce labor costs. The most difficult part is to choose the most suitable adhesive, which offers the right balance between mechanical
resistance, flexibility and ease of process.
For more than 70 years, Huntsman has been a major actor in industrial adhesives, and has developed innovative and reliable solutions. Araldite adhesives for
the marine industry have been specially designed for the construction of boats, whether commercial vessels, pleasure yachts or racing boats, while trying to
improve process efficiency, and to reduce time and costs.


Three new Araldite adhesives are particularly suitable for this kind of application:
Araldite® 2023 : long time open MMA adhesives for complex assemblies

Exists in 3 versions: open time of 10/30/60 minutes
Extremely flexible to resist shocks, vibrations, dynamic loads
Pasty product for filling large gaps (up to 30mm) or vertical applications
UV stable (no yellowing in the sun)
Pending for Lloyd's Register (LR) approval

Araldite 2051® : two-component MMA adhesive for emergency repairs

Ultra-fast polymerization for small repairs
Excellent adhesion on most substrates, even without surface preparation
Can be applied even in very cold conditions (up to 0°C)
Can be applied underwater (including seawater)

Araldite 2015-1® : two-component epoxy adhesive for all structural assemblies

Resistant to dynamic loads
High stiffness
Excellent mechanical properties on metals and composite
Lloyd's Register (LR) approved
Excellent resistance to marine environments
Pasty, non-sagging product, with an 45 minutes open time
More information :
Need information about our adhesives or product range Araldite® ? Contact our technical department at +33 426 680 680 or
fill out our contact form.
Download now the Huntsman White Book dedicated to the marine industry: