Bonding and sealing: Transparent solutions for sign making industry
Sign makers (and other companies specialized in storefront signage and outdoor advertising) are companies that produce signs for the stores and various visual communication media.

Industrial adhesives, such as MMA adhesives, have been used for many years by this industry for the production of signs.
Moreover, some light signs used in shop fronts contain electronic components (LED strips for example), that must be protected from water and moisture: for this, manufacturers, as well as the actors of the lighting industry, use different MSP or silicones sealants to protect the components against rain.
Currently, for aesthetic reasons, sign makers are more and more looking for transparent products, and are willing to make the bonding invisible.

Samaro and its partners can offer perfectly transparent products, which already are proven solutions in this industry: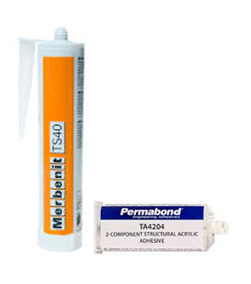 • For structural bonding : Permabond TA4204 is a transparent, "crystal clear", fast curing, high strength MMA adhesive
• For sealing : Merbenit TS40 is a transparent, "crystal clear", multipurpose and easy-to-use one-component MSP sealant.
These two products are perfectly suitable and fills the usual needs of this industry :
• Good adhesion on the substrates typically used by this industry: aluminum, PMMA, polycarbonate …
• Good resistance to external conditions (cold, wind, rain, snow, UV exposure…)
• Excellent transparency for invisible bonding.
• Proven solutions in this industry
Permabond TA4204 is available in 50ml and 400ml dual cartridges, and Merbenit TS40 is available in 290ml cartridges or 600ml sausages.
To apply Merbenit TS40, Samaro offers several solutions:
To apply Permabond TA4204, Samaro offers several solutions :
More information :
Posez vos questions à nos techniciens au 04 26 680 680 ou par mail.