DGE is now celebrating its 25th anniversary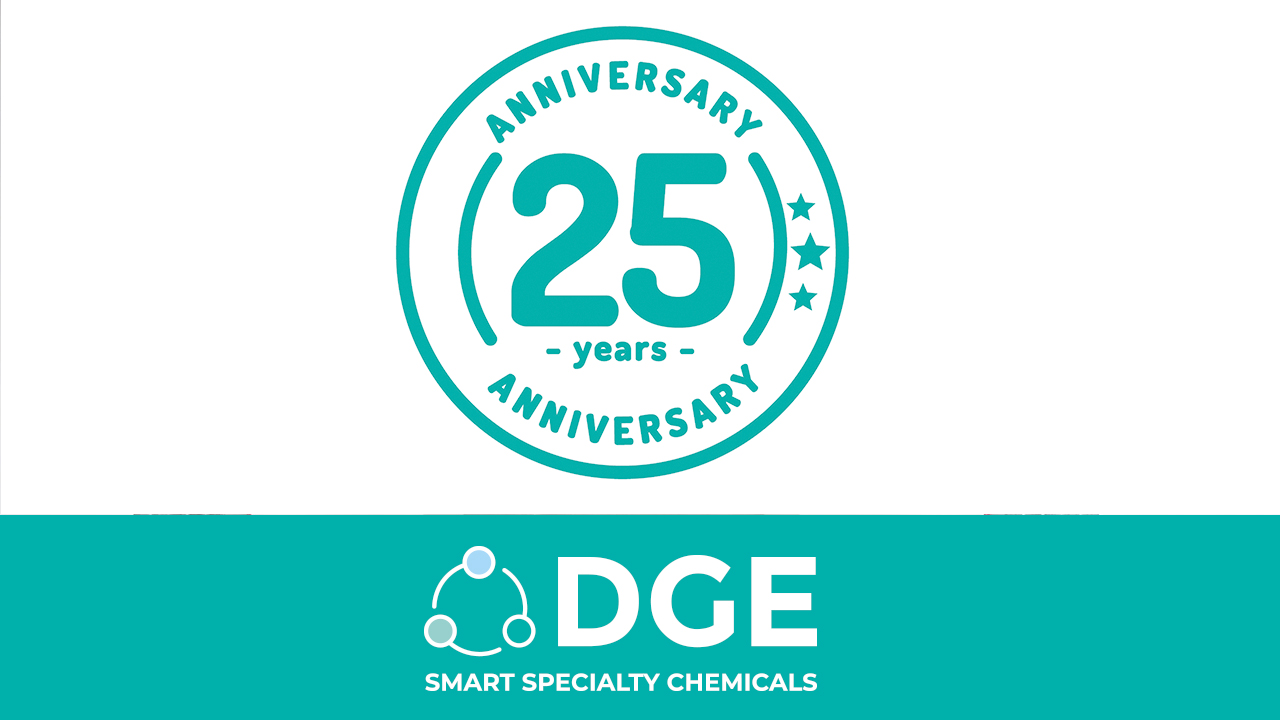 DGE is 25 years old!
DGE Smart Specialty Chemicals was founded in 1996 as Distributors Group Europe bv in the Netherlands. So we are 25 years old this year! Time flies when you are doing what you are truly passionate about!
And today we would like to thank all the people who have shared this passion, from the founders of our company to our current team of professionals. Our achievements are only the result of the efforts of each and every person in this great family.
Over the past 25 years, DGE has grown in revenue, coverage, organization and services, but we retain the same entrepreneurial and maverick spirit that got us here.
Today, DGE is a pure player dedicated to the marketing and distribution of high quality specialty chemical end products in 30 countries. With over 200 technical sales professionals in the market, we offer the most compelling local presence.
Over the years, we have contracted with all the world's leading chemical companies in the following categories: Lubricants; Adhesives & Sealants and Encapsulants & Electronic Protection.
Our European digital platform and advanced logistics model provide state-of-the-art services and operating facilities that enable our customers to improve their business performance. Locally, end customers benefit from the highest quality standards in terms of technical advice, warehousing, delivery, after sales operations and F&A services.
On the marketing side, DGE Analytics, our market intelligence programme, provides our customers, shareholders and members with up-to-date and relevant analysis for better access to over 80,000 customers in Europe.
The organisation is growing. Our values remain
DGE's core values, based on transparency and integrity, have been essential in building profitable and sustainable relationships with all our stakeholders. Today, more than ever, we are strengthening our engagement with them.
INTEGRITY… in everything we do
TRANSPARENCY… about our business model
INNOVATION… to embrace and lead change
WINNERSHIP… as a source of value creation for our stakeholders
RESPONSIBILITY… to deliver on our commitments
RESPONSIBILITY… highly valued by our suppliers, shareholders and customers.
A powerful business model across Europe
Since 1996, we have built our model on the heritage of our founding members (Mascherpa, Mavom, Samaro, Credimex…): strong local organisations in national territories, with proximity to customers as a main priority, and a clear problem-solving approach.
25 years later, we continue to invest and put our technical expertise at the service of our customers across Europe.
| LOCAL BRANCH | COUNTRIES |
| --- | --- |
| Antala | Spain, United Kingdom, Portugal, Ireland |
| Costenoble | Germany |
| Credimex | Switzerland |
| Diatom | Denmark |
| Endustri Teknik | Turkey |
| GA Lindberg | Sweden, Norway |
| Mascherpa | Italy |
| Mavom | Belgium, Netherlands |
| Mercouris | Greece |
| Samaro | France and North Africa |
| Sigerom | Romania, Bulgaria |
| Tewipack | Germany |
| Texma – GES | Israël |
| Ulbrich | Austria, Hungary, Czech, Slovakia, Slovenia, Hungary, Croatia |
| YTM | Finland |
Aller de l'avant
DGE envisage l'avenir avec des plans ambitieux pour continuer à se développer à proximité de nos partenaires de l'industrie chimique (DOW Chemical ; DuPont ; Chemours, …), pour consolider notre position dans la région EMEA.
Nous continuerons à investir pour apporter de la valeur à travers la chaîne de valeur et à utiliser la technologie et les canaux numériques pour embrasser le brillant avenir à venir.