Discover the benefits of DOWSIL™ EI -2888 Silicone Encapsulant Primerless on video
DOWSIL™ EI -2888 Primerless Silicone Encapsulant Kit
Appropriate for the encapsulation of rigid and flexible printed circuit boards for indoor and outdoor LED lighting, explosion-proof and high-protection luminaires as well as outdoor display applications.
Applications :
Outdoor displays
Explosion-proof lighting
Flexible and rigid LED strips
Benefits :
Primerless adhesion with low viscosity inhibition resistance
Room temperature curing with optional heat acceleration
A cost-effective alternative (does not contain platinum like other encapsulants)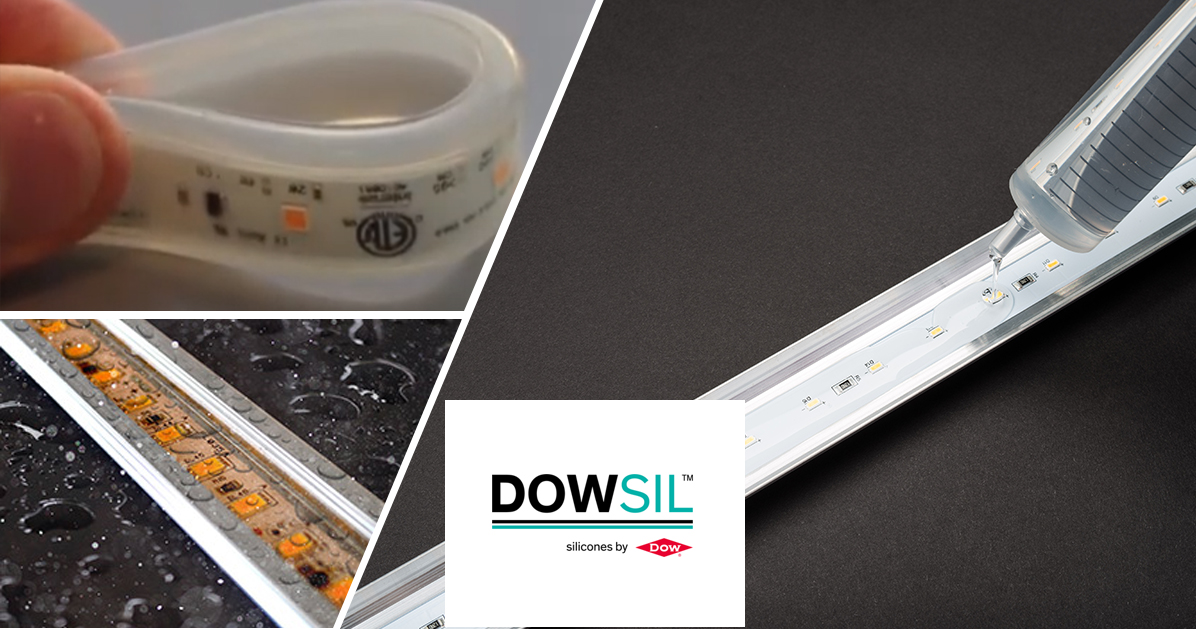 Properties :
These values are typical properties and are not intended to be used in the formulation of specifications.
Transparent
ratio 1:1
Viscosity :2 700 mPas
Durometer : 60 Shore 00
Working Time : 130min
Cure Time : 24h at 25°C
Light transmission @ 380 nm : 91%
Dielectric Strength : 19 KV/mm
Discover the benefits of DOWSIL™ EI-2888, Silicone Encapsulant Primerless, an optically transparent silicone that protects LEDs from moisture and surface contamination. The optimal rheological properties of this product allow the use of luminaires of various shapes while providing superior optical performance.
DOWSIL™ EI-2888 can be applied/deposited in a variety of ways, including automatic static or dynamic dosing, manual mixing or with flow, pour or injection dispensing equipment.
The video presents the advantages of DOWSIL™ EI-2888, a primerless silicone encapsulant for the protection of electronic components in lighting and display applications and demonstrates its performance over alternative products.
Dowsil EI-2888 - Kit - Encapsulant silicone sans primaire
More information :
DOWSIL™ EI-2888, Silicone Encapsulating Primerless is available :
Download :
Material Safety Data Sheets: Part B
Need information on encapsulants DOWSIL™ ? Contact our technical department at +33 426 680 680 or fill in our contact form.
Consult our brochure dedicated to electrical and electronic protection: