Dow – Lighting systems: Protection, assembly and optical products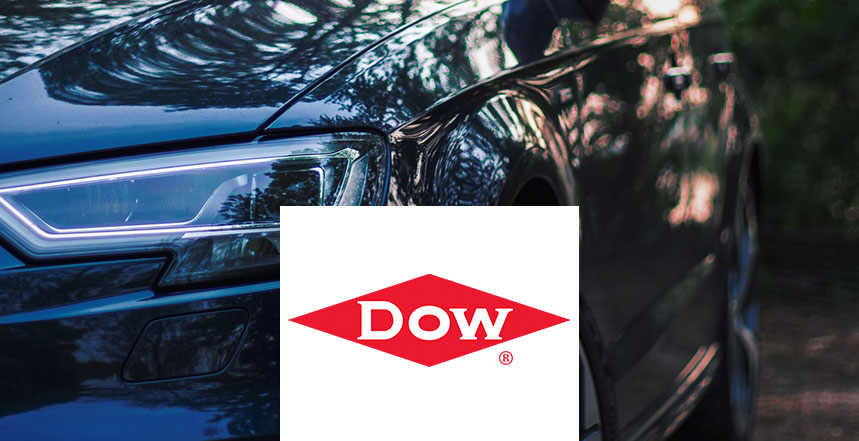 Brighter, more energy-efficient and more sustainable lighting systems

Demand is everywhere. Innovative products can help you meet that demand. Dow's high-performance silicones, together with its lighting, technical, optical and process expertise, can help you make your ideas shine.
a) Solutions for LED luminaires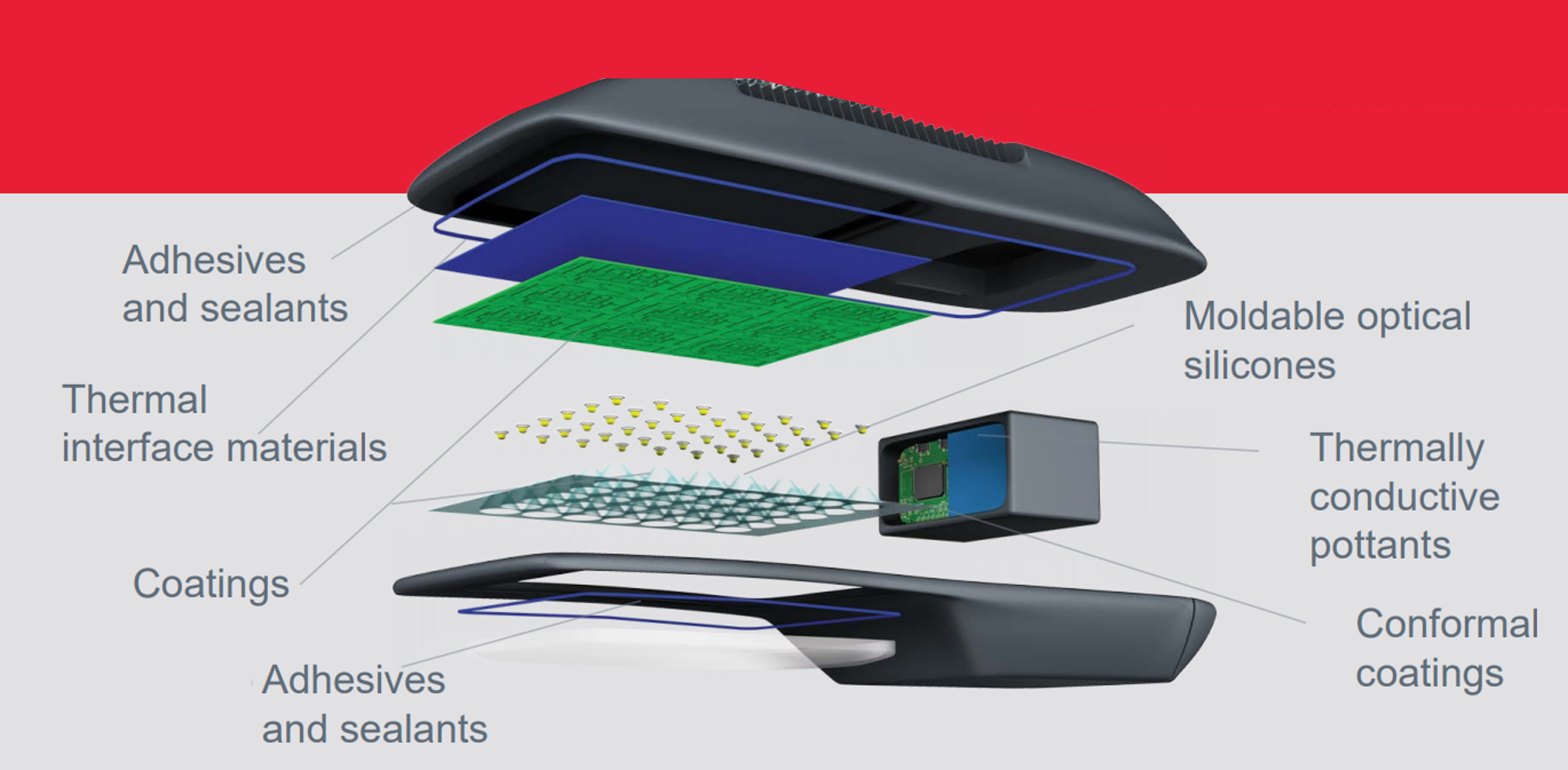 Adhesives and sealants
By forming durable, low-stress elastomers, DOWSIL™ adhesives and thermal sealants increase your design flexibility, while providing reliable long-term performance. They provide excellent joints and seals between a variety of common LED lamp and luminaire materials.
Thermal interface materials
Nothing impacts lifetime more than heat… and LED electronics generate a lot of it. By designing with DOWSIL™ thermal interface materials, you have more heat management options. The thermally conductive adhesives form thermally stable bonds with most LED PCB substrates and offer excellent thermal conductivity. Their low volatility means there is no negative impact on components or light output. Dispensable Thermal Pads allow you to precisely control the thickness and amount to be deposited on complex substrate shapes. They give you improved thermal performance and can speed up production and, in many cases, reduce project costs.
DOWSIL™ TC-4025 Dispensable Thermal Pad
DOWSIL™ TC-5026 Thermally Conductive Compound
DOWSIL™ TC-5629 Thermally Conductive Compound
Optical molding silicone
You'll find an unprecedented level of design freedom with Dow's optical moulding silicones. They allow you to explore more complex architectures, often by simplifying the manufacturing process.
They can also improve the long-term performance of your project. Not only do they offer excellent optical properties, but they are more resistant to impact damage and degradation from UV, heat and extreme environmental conditions than traditional optical materials, allowing high light density to be achieved while remaining stable over time.
Thermally conductive encapsulants
Environmental contamination and thermal damage are two of the biggest threats to the long-term reliability of your LED lamp or luminaire. DOWSIL™ and SYLGARD™ thermally conductive encapsulants protect LED drivers from moisture and dust while dissipating heat and absorbing component noise.
Conformal coatings/gels
The delicate components of PCB systems must be protected from heat, moisture and physical stress. DOWSIL™ conformal coatings provide this protection – and offer excellent insulation against shock and short circuits. They offer excellent primerless adhesion to many common LED materials.
b) Solutions for LED headlight assemblies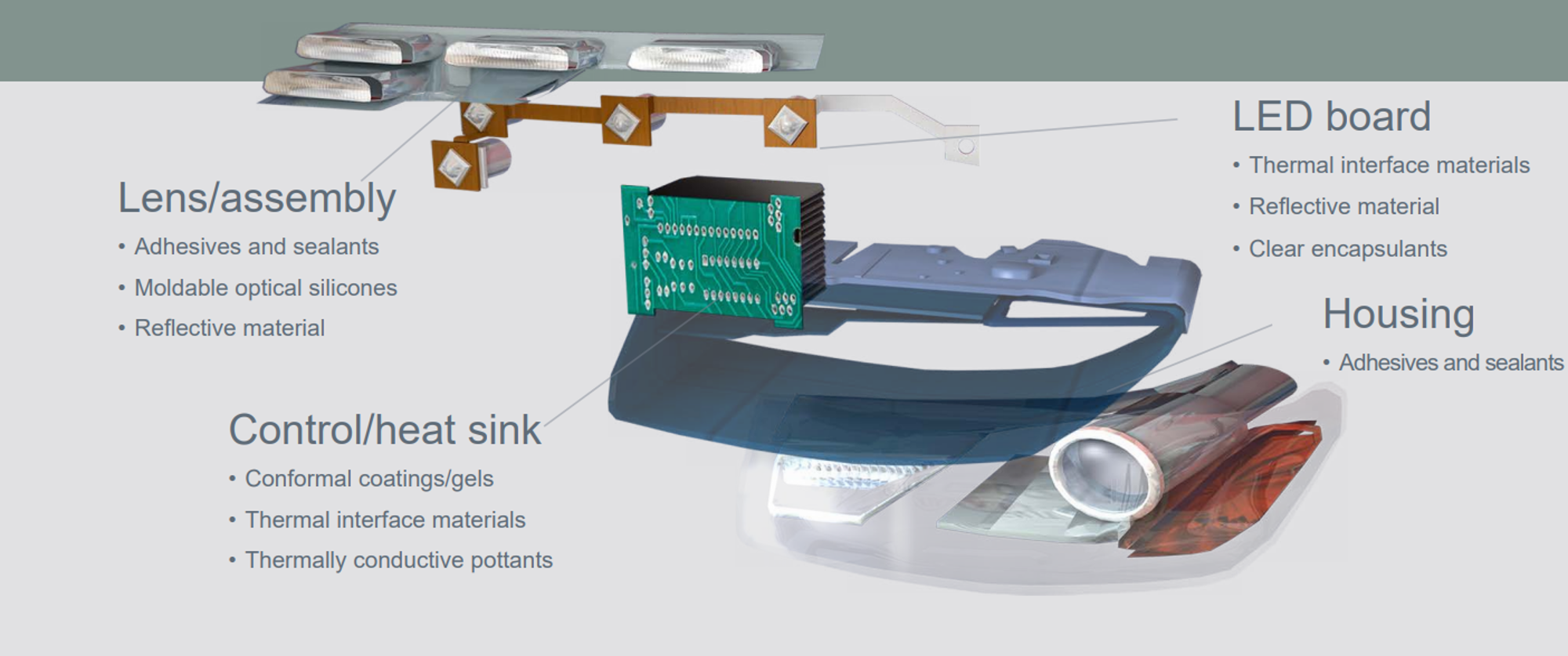 Lens/ assembly
This is the professional end of your headlamp assembly. Dow's silicone-based adhesives, optics and reflective coatings give you new design freedom and enhanced performance, thanks to the unique properties of silicones and our global network of experts..
1. Adhesives and sealants
En formant des élastomères durables et peu contraignants, les adhésifs et mastics thermiques DOWSIL™ augmentent votre flexibilité de conception, tout en offrant des performances fiables à long terme. Ils offrent d'excellents assemblages et joints d'étanchéité entre une variété de matériaux courants pour lampes LED et luminaires.
3. Reflective products
This award winning silicone moulding is a white reflective material that allows creativity and flexibility in the design and manufacture of light reflectors. It is a high viscosity, high Shore A hardness, fast curing optical moulding resin to produce fine detail with good resistance to environmental ageing. DOWSIL™ MS-2002 molding silicone provides excellent molding detail or feature reproduction, and the ability to mold undercuts, etc. allows greater flexibility in your designs.
Heat control/dissipation
Heat management is one of the most important considerations when designing your LED light. Dow's silicone thermal management materials give you very stable and versatile options for managing heat.
Transparent encapsulants
One way to achieve greater cost-effectiveness, and reduce your total production cost, is to use materials that can perform multiple functions. DOWSIL™ secondary optical encapsulants offer you this opportunity. These materials offer superior protection against moisture, thermal stress, shock and impact, and provide excellent optical performance. You can count on minimal yellowing and degradation, while maintaining consistent light quality throughout the life of the product.
Secondary optical encapsulants :
Housing
Your assembly depends on the integrity of its housing. DOWSIL™ silicone adhesives and sealants help you maintain a moisture-, dust- and dirt-tight environment with durable adhesion under the most demanding conditions.
LED Innovation Ecosystem
As an LED lighting customer, you will be supported by Dow's LED innovation ecosystem.
This vast and growing global network stretches from Europe to Asia to the Americas and covers the entire LED value chain. It includes dozens of optical and LED component designers and manufacturers and offers the expertise you need to develop a true total solution package with services such as:
Product development
Optical design
Prototyping
Analytical testing
Application development
Process development
You'll also benefit from the support of our extensive global network of equipment manufacturers, distributors and specialist reconditioners. Together, this array of resources and relationships provides you with one of the most comprehensive sources of solutions for advanced materials.
Source: Dow Product Selection Guide – www.dge-europe.com
More info :
Need information on Dispensable Thermal Pad or on the Dowsil™ brand ? Contact our tecnical service to +33 426 680 680 or fill our contact form.
Samaro also offers other thermal management solutions through its Thermal Management Selection Guide. In this guide you will find our compounds, thermal pads, dispensable pads, thermally conductive encapsulants (RTV & HTV) and thermally conductive adhesives.