DOWSIL™ CC-8030, this tropicalisation coating with two curing modes: moisture or UV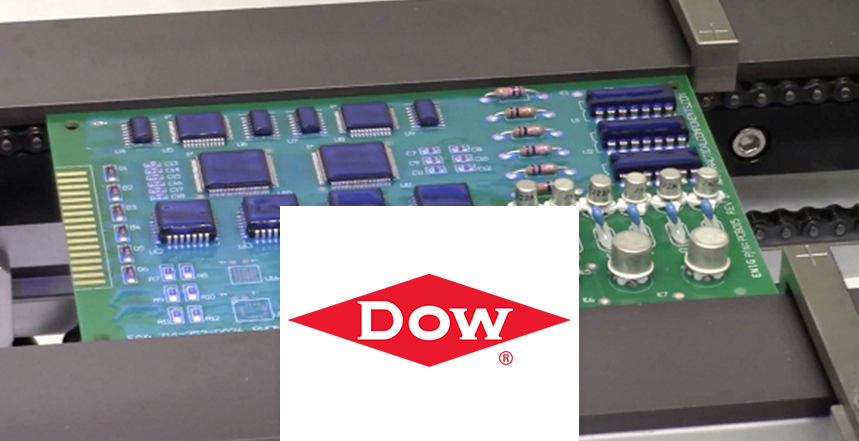 Serving PCB manufacturers and system assemblers for decades
For over 75 years, Dowsil's technology offerings have helped PCB and assembly system manufacturers across the value chain bridge the gap between
breakthrough innovation and success.

Innovations in advanced materials
A broad portfolio of silicone, polyurethane and hybrid technologies addressing the different needs of the value chain and end-use applications:
Adhesives and sealants
Conformal coatings
Encapsulants
Dielectric gels
Electrically and thermally conductive materials
Bonding
Sealing
Protection
Stress relief
Heat dissipation
EMI shielding
Assembly
Mil spec
Ease of processing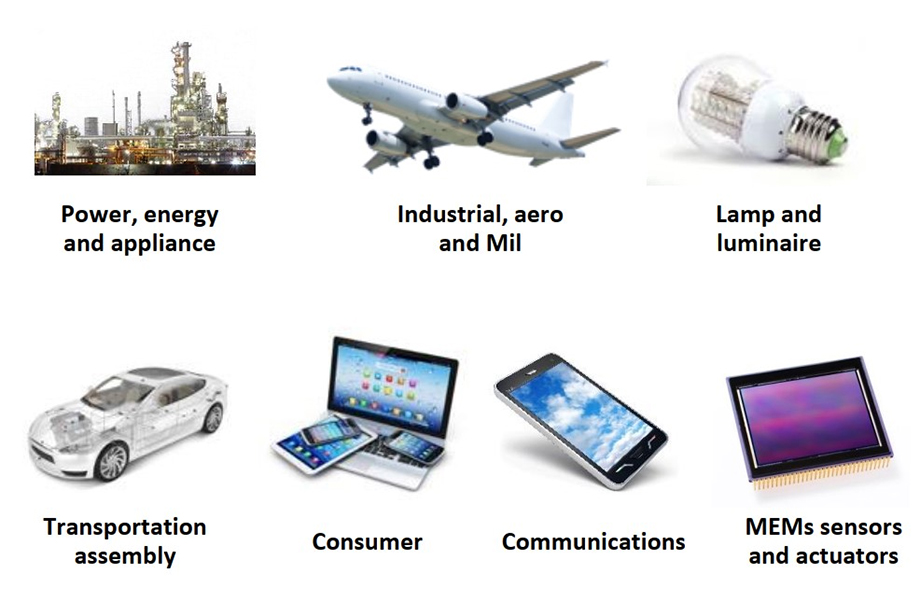 Possible curing profiles: tropicalisation varnish
Fast moisture curing
These coatings cure quickly at room temperature to provide a 'drop and forget' option that is non-sticky and ready to run on the production line in less than 10 minutes, making it an ideal option for high volume assembly operations.
Moisture curing with extended working time
Silicone coatings in this category also cure at room temperature but allow more time for the product to flow on large or complex boards. They are also the preferred option for applications that require a thicker coating.
Heat curing
Sometimes referred to as "controlled cure" for the control they allow over the cure rate, coatings in this category are the material of choice when your processing operation requires complete cure in less than five minutes. They can also place less stress on board components during the thermal cycle.
NOW: Double UV and moisture curing
DOWSIL™ CC-8030 cures in seconds with secondary moisture cure for shadow areas. Designed for automated spray coating, in-line processing to reduce space requirements.
Dual UV and moisture cured silicones: A distinct combination of characteristics
Environment
Solvent free BTEX*, and the UV curing of this product significantly improves performance, provides an environmentally sustainable environment for workers and saves energy consumption compared to heat curing.
Processing
A tropicalisation coating designed for spray treatment.
Fast curing by exposure to a wide spectrum of UV light (mercury lamp).
Secondary moisture curing for shaded areas.
Stress relief
Low modulus of elasticity.
High elongation.
Improves reliability against stress.
The most distinct features of silicones can now be harnessed with the speed of UV curing. DOWSIL™ CC-8030 Dual Moisture Cure Conformal Coating is solvent free, being manufactured without added solvent.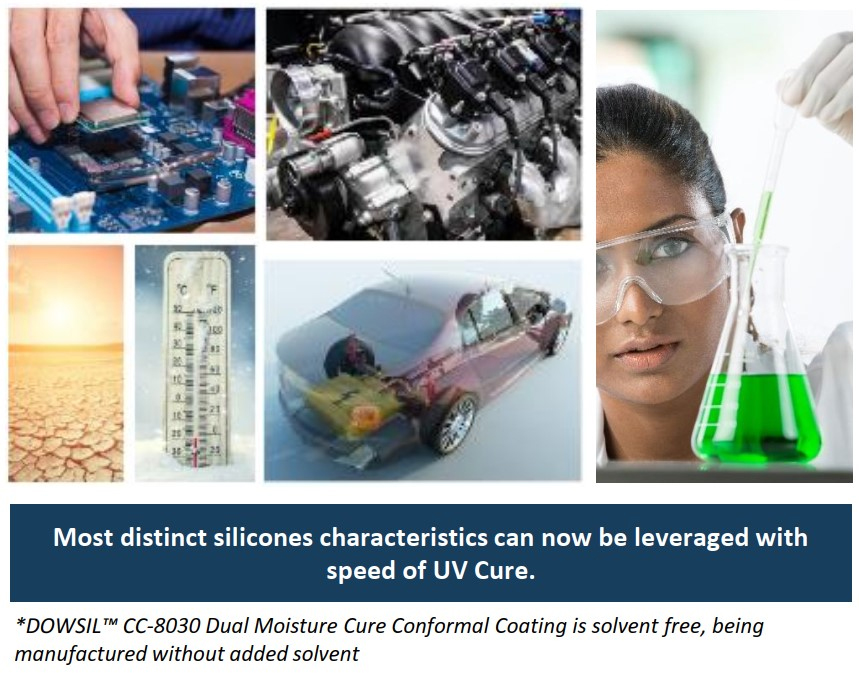 Trends in Conformal Coatings
General segment trends and implications for tropicalisation coatings.
Integrated system
Improved dielectric protection
Smaller devices
Higher speed
Modular
Environmentally friendly
Low power consumption
Smaller circuit boards and electronic components versus increased power and efficiency

Use of electronic components in very harsh environments
Increased need for protection of electronic circuits
Product requirements for conformal coatings
For more challenging environments:

Excellent protection in high humidity environments
Protection against contamination
Excellent flame retardant and electrical properties

Regulations :

Less VOCs
Solvent free
Solvent free BTEX
UV curing
Moisture curing coatings (100% solid silicones)
Key trends in conformal coatings that DOWSIL™ CC-8030 addresses.

DOWSIL™ CC-8030
Colour: Translucent
Viscosity (cP)*: 520
Adhesion free time at 25ºC: UV curing seconds
UV curing conditions (type H bulb)** : 2000 mJ/cm2
Hardness, shore A: 30
Tensile strength: 120 psi
Elongation: 85%.
Dielectric strength (V/mil): 575
The information presented here is for illustrative purposes only and should not be construed as a product specification.
*High viscosity of the shear cone and plate
**Standard mercury H-lamp/bulb broad spectrum UV lamp (spectrum in UV A, UV B and UV C)
Features and benefits: sustainable and environmentally friendly treatment
Does NOT contain benzene, toluene, ethylbenzene or xylene.
No added solvents and sprayable.
No isocyanates
Secondary moisture is a neutral cure
Fast UV primary cure;

Reduces the need for high temperature ovens.
Reduces floor space for set-up of WIP
Reduced curing time
Sustainable and environmentally friendly processing.
*
Global economy :
Reduce curing temperature
Reduce cure time
Reduce processing area and capital by minimising WIP steps and large ovens.
Increased overall yield
Features and benefits: High efficiency
Designed for fast online processing
Rheology designed for spray coating
Extended working time in the dispensing line
UV curing in less than a minute – standard mercury broad spectrum UV lamp; H lamp/ampoule (UV A, UV B and UV C spectrum)
Features and benefits of DOWSIL™ CC-8030: fast UV curing
Adhesive free after less than 10 seconds @300 mW/cm2
No oxygen inhibition
Features and benefits: fast UV curing
Standard mercury
Broad spectrum UV lamps
H lamp/ampoule
(Spectrum in UV A, UV B and UV C)
| Time (s) | Intensity (mW/cm2) |
| --- | --- |
| 7 | 300 |
| 10 | 200 |
| 20 | 100 |
| 40 | 50 |

Benefits of DOWSIL™ CC-8030: Adhesion
Demonstrated good adhesion to typical electronic substrates.
Good adhesion to cured silicone materials.

Features and benefits: higher level of protection.
Improves reliability in wet environments
Wider operating temperature range of -45 to 200°C
Protects PCBs and other electronic components from environmental particles, moisture and contaminants, reducing short circuits and corrosion of conductors and solder joints
Good dielectric properties (insulation, moisture resistance, breakdown voltage)
Rheology designed for single layer spray coating from 2 to 8 mils (50 to 200 µ)
The use of a multilayer coating to achieve 15 to 25 mils (380 to 635 µ) is possible with DOWSIL™ CC-8030. This allows the replacement of the traditional dam and fill.

USP: Low modulus for delicate components
Compared to leading acrylated urethane-based UV-cured coatings, DOWSIL™ CC-8030 offers significantly improved system reliability.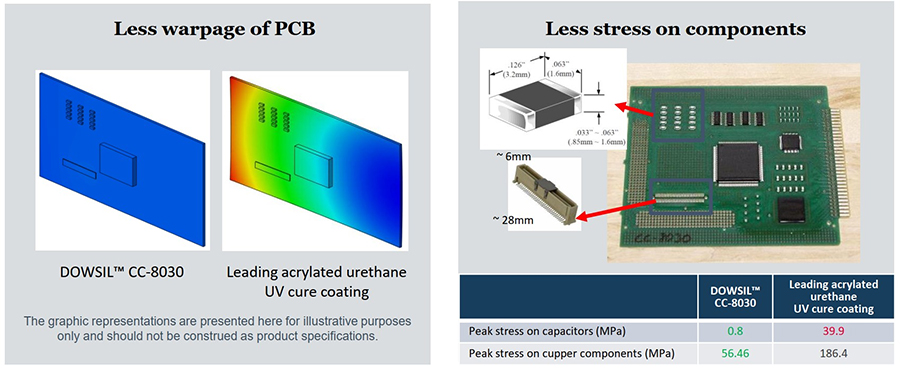 Industry specifications
Pending :
Underwriters Laboratory : UL 94
IPC 830

Standard for non-military application
How are the tropicalisation coatings selected?
The OEM design is validated by a specific tropicalisation coating.
Coating of cards in-house.
Use of a contract manufacturer (CM) to produce to their bill of materials.
The contract manufacturer proposes to do a design-build
The CM proposes a nomenclature based on its preferred materials and equipment.
Industry specifications determine the design requirements.
End use of the product requires additional documentation.
UL 94 In progress
IPC-CC-830 in progress
Packaging available
150 g (6 oz) cartridge in aluminium bag
18 kg (5 gallon) pail available
Sampling available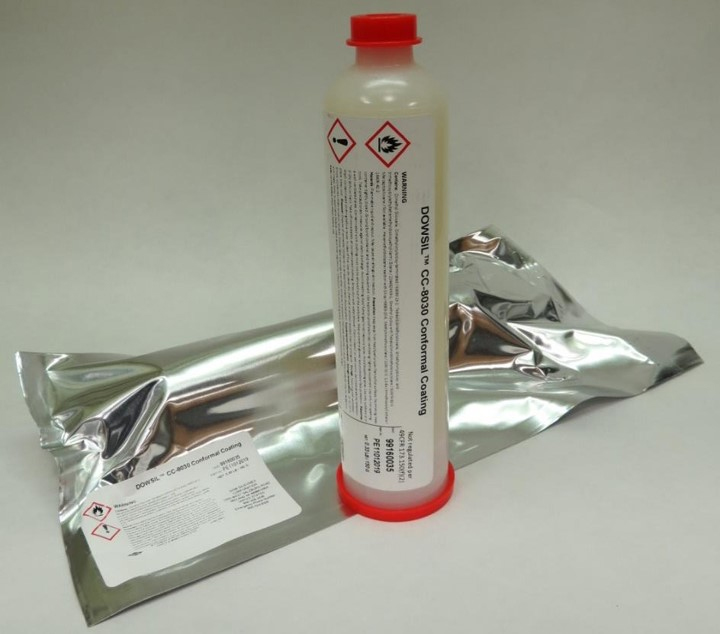 To sum up
No added solvents
No isocyanates
With the addition of secondary moisture, it is a neutral cure
Adhesion to typical electronic substrates
Available *Now* in sample cartridges
source : Dow