Dowsil™ TC-4040 : Dispensable Thermal Pad
Dispensables Thermal Pad Dowsil™
Are you trying to meet the requirements of 5G technology, such as the demand for high thermal conductivity? 5G projects require higher power densities, which produce more heat. Technology with such high temperature output requires materials that help dissipate the heat, products like Dowsil™ Dispensable Thermal Pad.
DOWSIL TC-4040 Dispensable Thermal Pad
DOWSIL™ TC-4040 Thermal Pad is a two-component thermal interface (TIM) and gap-filling silicone that is easy to deposit and offers high thermal conductivity. This product increases assembly efficiency by allowing room temperature or accelerated curing, as well as vertical assembly prior to curing due to its excellent sag resistance.
Thus, the DOWSIL™ TC-4040 Dispensable Thermal Pad not only enables your 5G technology to function, but optimizes the process by which that technology is assembled.
Market needs
High thermal dissipation, easy assembly, high reliability, good resistance to vertical collapse.
Proposed value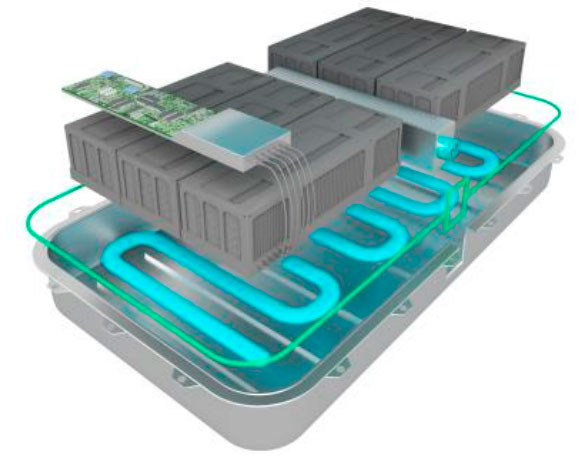 The DOWSIL TC-4040 dispensable thermal buffer offers an excellent balance between thermal management and processability for high power thermal management applications (5G base station, power module, control unit, etc.)
Key Benefits
Excellent thermal management: Good wetting performance of the fabricated pad
High reliability: Stable thermal and mechanical properties after aging
Highly efficient process and process reliability
High extrusion rate for high efficiency and easy process.
Stable thermal and mechanical performance after aging HT and TS
Good vertical sag resistance
DOWSIL TC-4040 Key Features and Benefits
4W/mk thermal conductivity: Improved thermal dissipation and thermal management of high power devices.
Stable thermal performance at 150°C, 85°C/85%RH and -40°C to 125°C Thermal shock: Provides long-term thermal reliability. Improves thermal and mechanical life of devices under severe conditions.
Stable mechanical performance at 150°C and 175°C/1200 hours of aging: Maintains stable gap filling performance and reliable stress absorption and release performance at high temperatures.
Extrusion rate of 350g/min and thixotropy index of 4.9: High extrusion rate for efficient dispensing. No flow after dispensing. Reliable assembly process for wide gap applications from 130µm to 3mm.
Vertical stability up to 3mm gap: ensures good gap filling reliability in use. Suitable for flat and vertical applications.
Lower contact resistance
Fluid matrix has: better wettability, better micro-gap filling, and better contact resistance reduction than fabricated pads and films. This results in lower thermal resistance and better thermal performance.
DOWSIL TC-4040 – Rheological properties
A higher thixotropic nature allows:
Higher extrusion rate when shear rate is higher, resulting in high flow rate.
Stays in place (no flow) once dispensed for good pattern accuracy.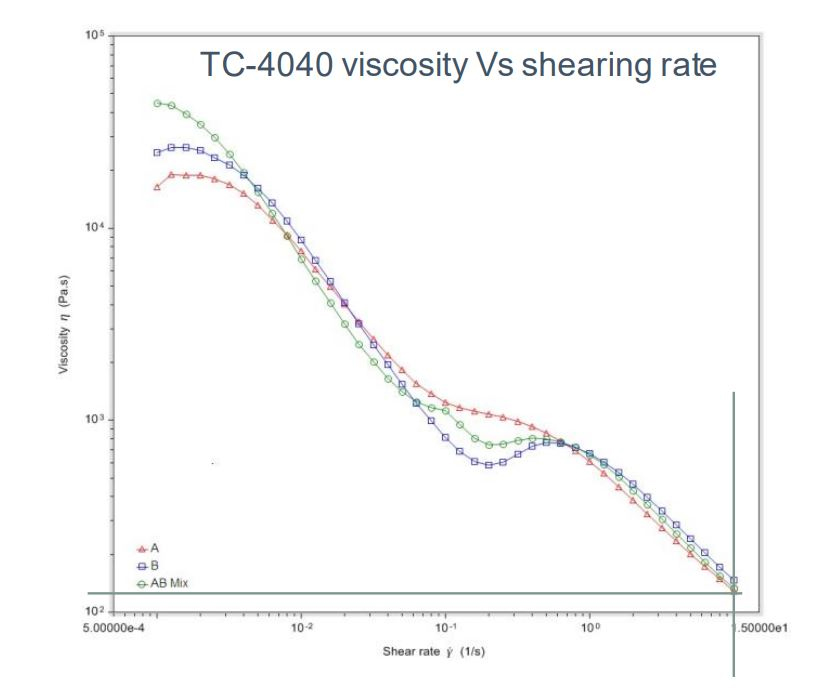 Test Process and Conditions:
Cure at 25°C for 24 hours.
Subject cured DOWSIL™ TC-4040 to thermal shock from -40C/30min to 125C/30min for 1000 hours.
Measure thermal conductivity, hardness, dielectric strength per 200h.DOWSIL™ TC-4040 exhibits stable thermal conductivity, hardness and dielectric strength after 1000 hours of heat shock aging.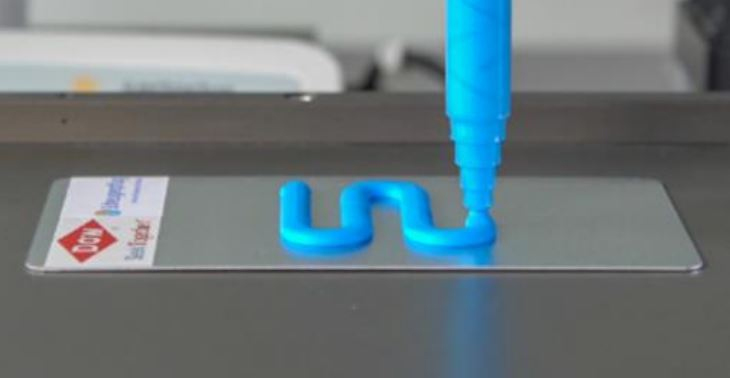 Other Dow Thermal Pad Dispensables
There are currently 4 references with different thermal conductivities: DOWSIL™ TC-4015 and TC-4016 with a thermal conductivity of 1.5W/m.K DOWSIL™ TC-4025 and TC-4026 with a thermal conductivity of 2.5W/m.K. DOWSIL™ TC-4016 and TC-4026 have embedded glass beads for better control of the thickness of the thermal interface.
Focus on the DOWSIL™ TC-4026
DOWSIL™ TC-4026 Dispensable Thermal Pad is used to dissipate heat from memory chips, computer power supplies.
Features : Blue / 1:1 / Viscosity : 70 000 mPa.s / Shore OO50 / Working time: >3h / Cure: 24h à 25°C – 15 min @ 100°C / Thermal Conductivity : 2,5 W/m.K
Key Benefits
Good thermal conductivity
Added glass beads to control thickness
UL94 V-0
DOWSIL™ TC-4026 Dispensable Thermal Pad is available :
More info :
Need information on Dispensable Thermal Pad or on the Dowsil™ brand ? Contact our tecnical service to +33 426 680 680 or fill our contact form.
Samaro also offers other thermal management solutions through its Thermal Management Selection Guide. In this guide you will find our compounds, thermal pads, dispensable pads, thermally conductive encapsulants (RTV & HTV) and thermally conductive adhesives.