Huntsman finalist in the JEC innovation awards with ARALDITE® 2051 structural adhesive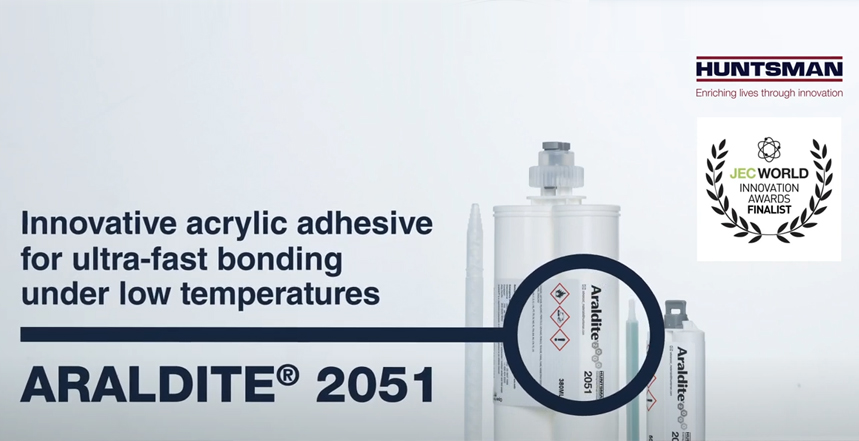 Enabling the extension of the lifetime and operating time of turbines
Huntsman™ and its partner "Blade solutions" are very proud to be recognised by the JEC as one of the finalists for the JEC Innovation Award.
The jury recognised their efforts and nominated Huntsman™'s ARALDITE® 2051 adhesives for this prestigious award.
ARALDITE 2051 is an excellent example of how Huntsman™ is helping wind farm operators reduce wind turbine downtime and contribute to a more sustainable energy sector.
A 10% downtime per year of a wind turbine represents up to 400 tonnes of subsequent CO2 emissions from other energy sources.
There is a growing demand for blade repair work to be carried out in some of today's most challenging conditions to maintain wind farm efficiency and energy production.
Thanks to its innovative catalyst package, ARALDITE® 2051 cures extremely quickly and develops a high bond strength, even at temperatures down to minus 20°C and even in underwater conditions.
These unique properties allow maintenance and repair operations to be carried out quickly and reliably, reducing downtime by up to 50% and total repair time by up to 90%.
Below is the Huntsman™ JEC WORLD innovation awards finalist video dedicated to the ARALDITE® 2051
ARALDITE® 2051 adhesive: key benefits

Excellent adhesion for multi-material assembly

Excellent ageing and environmental resistance

Taking under water or in a humid environment

Without surface preparation

Fast cure

 0°C TO +40°C

Focus on ARALDITE® 2051 adhesive


Applications : ARALDITE® 2051 is a two-part, ultra-fast setting methacrylate adhesive, specially formulated for structural bonding of various materials (metals, plastics, composites) in difficult conditions

Properties : ARALDITE® 2051 is an ultra-fast setting structural adhesive for applications in extreme conditions (very low temperatures, underwater application, including sea water)

ARALDITE® 2051 is available : 

Download  :