Krytox™ greases and oils for the lubrication of sunroof systems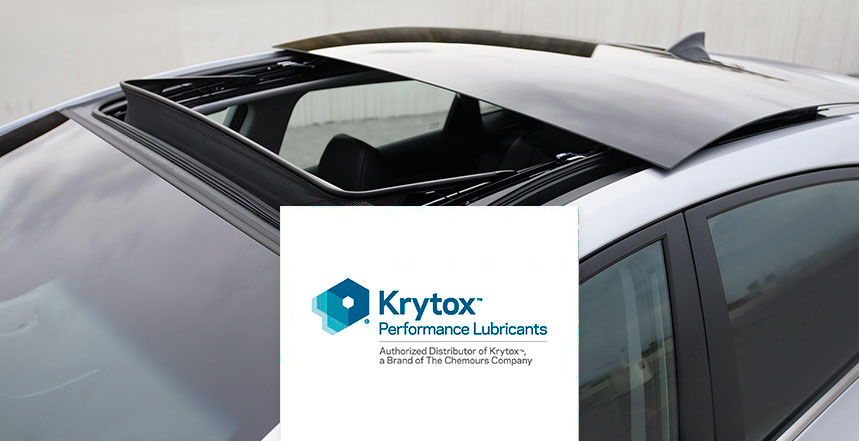 Lifetime lubrication for flexible performance and noise reduction in sunroof applications.
There are many application areas in a sunroof system that require lubrication from a mechanical point of view (drive system, control brackets, slides) or from a noise reduction point of view (moving panels, roof system frame, body structure, sealing strips). The movement of metal on plastic, sealing strips on glass or painted surfaces, among others, can generate noises that are usually described as squeaking, itching or vibrating. When failure of these components is not an option, whether for durability, warranty, safety, lost productivity or downtime reasons, Krytox™ products are an ideal solution for the automotive sunroof industry.
Krytox™ high performance lubricants are fully synthetic perfluoropolyether (PFPE) based oils and greases. They offer excessively long life and outstanding properties for noise, vibration and harshness (NVH) prevention and superior lubrication of mechanical systems
Ability to withstand extreme temperatures and water washout
Does not damage plastics or elastomers.
Non-corrosive to metals
Non-oxidising
Extends lubricant life due to low volatility and outgassing.
Non-hazardous and non-toxic.
Indefinite shelf life if left unopened and stored in a clean, dry place.
Both oils and greases are suitable for automated spray application.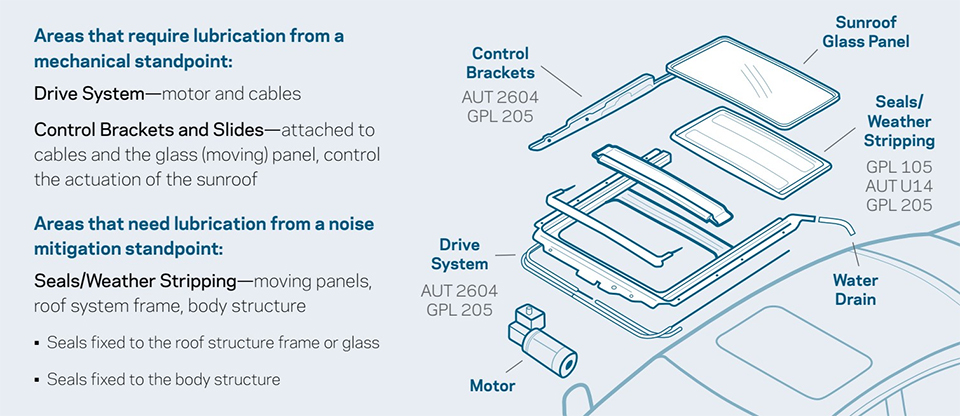 Krytox™ GPL 205
Krytox™ GPL 205 grease is a polytetrafluoroethylene (PTFE) thickened PFPE oil that contains no additives and can be used on a variety of components, including those exposed to harsh environmental factors such as rain, snow, dust, salt, automotive cleaning and maintenance products and common automotive fluids. Krytox™ GPL 205 has been widely used by OEMs in mechanical sunroof systems and seals.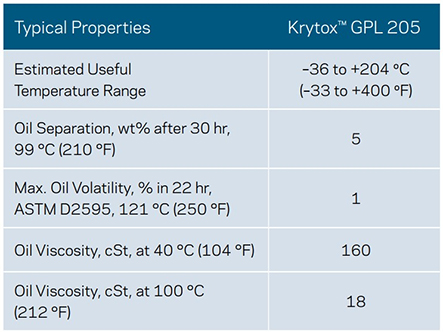 Krytox™ AUT 2604
Krytox™ AUT 2604 grease contains PFPE oil and a special PTFE thickener for enhanced performance in the mechanical application areas of sunroof systems. Designed to provide a thin, durable and uniform film on contact surfaces, it promotes smooth movement. Krytox™ AUT 2604 is specifically formulated for a wide temperature range, exhibiting very good low temperature characteristics, as well as improved load and wear performance at high temperatures.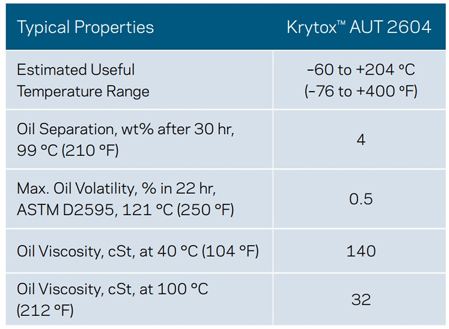 Krytox™ GPL 105
Krytox™ GPL 105 oil is a clear, colourless PFPE fluorinated synthetic oil designed to reduce friction and wear, while extending the life of equipment in heavy duty applications. Krytox™ GPL 105 oil has been used by OEMs to prevent sunroof sealing problems such as NVH (noise, vibration and harshness) and BSR (buzzing, squealing and rattling) that can occur during the life of a vehicle.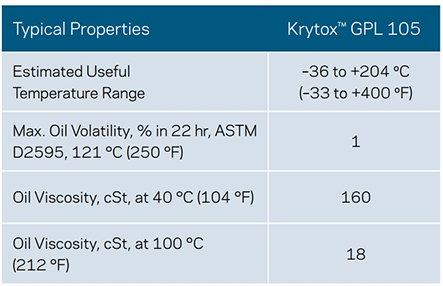 Application of Krytox™ GPL 105 oil to the sealing strips provides increased protection against sunlight damaged ultraviolet (UV) rays.
Krytox™ AUT U14
Krytox™ AUT U14 is a proprietary blend of PFPE oils containing a dye which, when exposed to UV or "black light", emits a yellow-green colour. This allows visual confirmation of coverage for quality control purposes, as illustrated in the images below: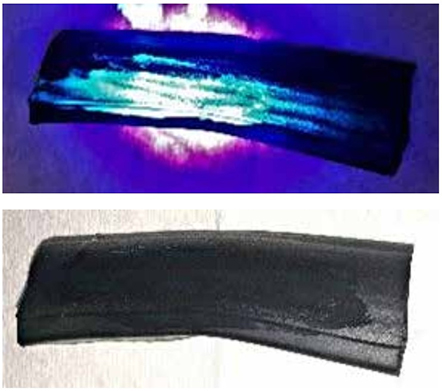 Like Krytox™ GPL 105, Krytox™ AUT U14 fights NVH and BSR problems and helps protect automotive sunroof seals and weatherstrips from UV damage.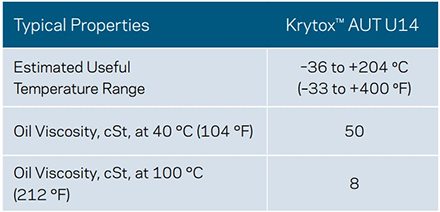 Performance testing
Microscopic images show that Krytox™ AUT U14 wets the surface of sealing strips more uniformly than other PFPE offerings, including standard GPL 105 oil. This results in a lower static and dynamic coefficient of friction, reducing stick-slip and noise in sunroof systems.
Figure 1 shows an untreated stripping surface.

Figure 2 shows how a standard PFPE oil can accumulate unevenly on the surface.

Figure 3 shows how the special formulation of Krytox™ AUT U14 provides uniform coverage of the PFPE oil.

Zins Ziegler Analysis
When a car is in motion, the contact surfaces deform elastically and store energy. When this energy is released, it can produce noise in the form of audible squeaks or rattles.
The Zins Ziegler is a standard test device in the automotive industry for measuring the noise potential of different material pairs. It measures the static and dynamic friction coefficients between material combinations to calculate a risk priority index (RPI). The test method uses standard protocols to simulate driving cycles of up to 100,000 kilometres. Material combinations with a high RPN are more likely to have friction problems and to produce noise.
The table below illustrates how the presence of environmental contamination (dust) significantly increases the RPN between the weatherstrips and the painted panels, thus increasing the susceptibility to create noise.
Coating the sealing strips with Krytox™ AUT U14 reduces the RPN index compared to the untreated coating or a competing PFPE coating.
Zins Ziegler analysis with China dust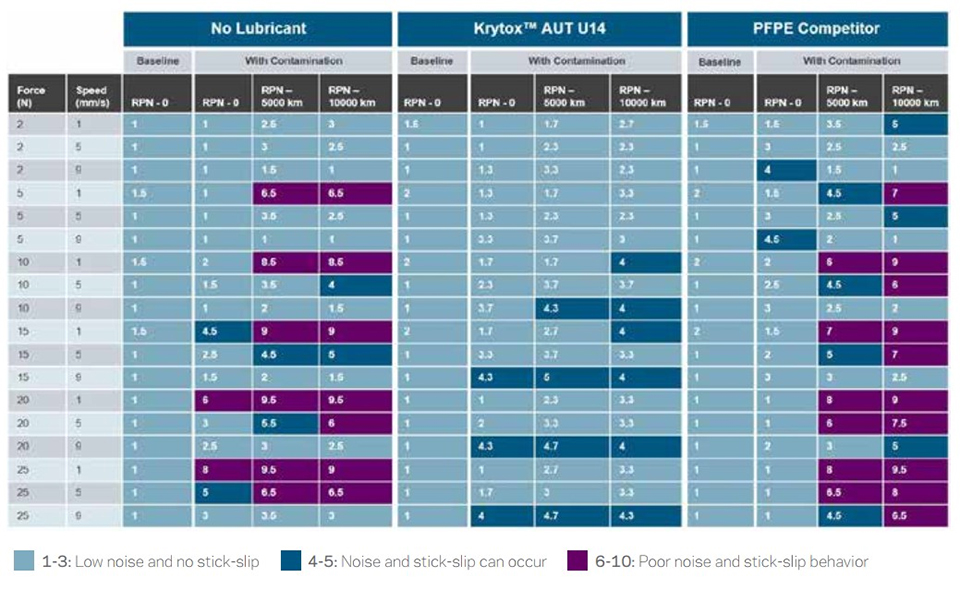 Compatibility
Krytox™ lubricants are chemically inert and compatible with virtually all automotive construction materials, including paint finishes, seal materials, glass, leather, textiles, plastics, and metals.
Source: Krytox Performance Lubricants 
More information :
Need more information about Krytox™ lubricants ? Contact our technical department on +33 426 680 680 or fill in our contact form.