Minimising maintenance costs and downtime with bearings 'lubed-for-life' using Krytox ™ AUT 2E45 grease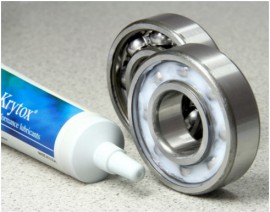 Krytox ™ AUT 2E45 grease has been field tested and proven as a 'lubed-for-life' solution for ball bearings in industrial electric motors at a pulp and paper production facility, as well as in other industries with similarly harsh service conditions. Photo: DuPont
Neu-Isenburg, Germany, March 2015 – Krytox ™ AUT 2E45 is a high performance grease from DuPont with proven lubed-for-life capability in industrial electric motor ball bearings. Unlike most conventional products, Krytox ™ greases do not oxidise, are water-resistant, non-flammable, and chemically inert. Krytox ™ AUT 2E45 offers excellent long-term lubrication for sealed ball-bearings in electric motors up to 200 horsepower (circa 150 KW).
Based on perfluoropolyether (PFPE) oil and shear stable polytetrafluoroethylene (PTFE) thickener,Krytox ™ AUT 2E45 is compatible with commonly used motor materials including metals, winding & cable insulation, and shaft seals. Krytox ™ AUT 2E45 is pure white in colour and has a DIN standard classification of KFK2S-40.
Long-term field-testing in North America has confirmed continuous motor run-times of many years with no lubrication related failures. The elimination of regular re-lubrication and maintenance, plus a major decrease in production breakdowns equates to considerable reduction in overall cost of operation. Due to the positive feedback from end-users, several renowned ball bearing manufacturers can now offer Krytox ™ AUT 2E45 as a lubed-for-life option in sealed bearings for demanding working environments.
Although chemically inert, the long term effectiveness of Krytox ™ AUT 2E45 is greatly reduced if mixed-in with conventional lubricants. Hence, an important consideration for new-users is to ensure previously used lubricants are completely removed prior to filling bearings with Krytox ™. The same applies to the anticorrosion coatings commonly found on new bearings.
Successful use in the paper and pulp industry
The Canadian company Cariboo Pulp & Paper, operating thousands of electric motors, is a typical case. Under the harsh conditions found in a pulp and paper mill, the motors rarely lasted longer than 4 to 6 years. Around 60 % of breakdowns were due to lubrication problems. The company considered introducing a comprehensive maintenance plan for regular bearing regreasing. This would have been time-consuming to set-up, involve considerable logistical effort, as well extra personnel and some capital cost. Moreover, there would still have been a risk of over-greasing the bearings, contaminating the windings and introducing external contamination. Having previously had good experience with Krytox ™ grease in their pulp dryer bearings and sootblower geaxboxes, the company turned again to DuPont in the search for a cost-effective solution.
Comprehensive comparative testing was carried out between of Krytox ™ AUT 2E45 and industry standard motor greases.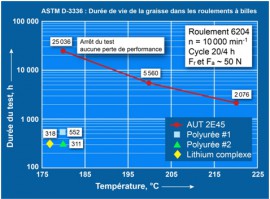 The results clearly demonstrated the superiority of Krytox ™ – lasting up to 64 times longer than ordinary greases in elevated temperature testing (see graph). On the basis of these results, Cariboo Pulp & Paper began fitting fully sealed bearings pre-filled with Krytox ™ during their routine motor overhauls. Since the program started seven years ago, not one of these electric motors has failed due to problems with the bearings. By keeping the solution simple, operational reliability is much improved and the company has been able to save the time and ongoing cost of a regular regreasing program.