Molykote™ BR 2 Plus, for the long-term lubrication of highly loaded bearings, gears and guides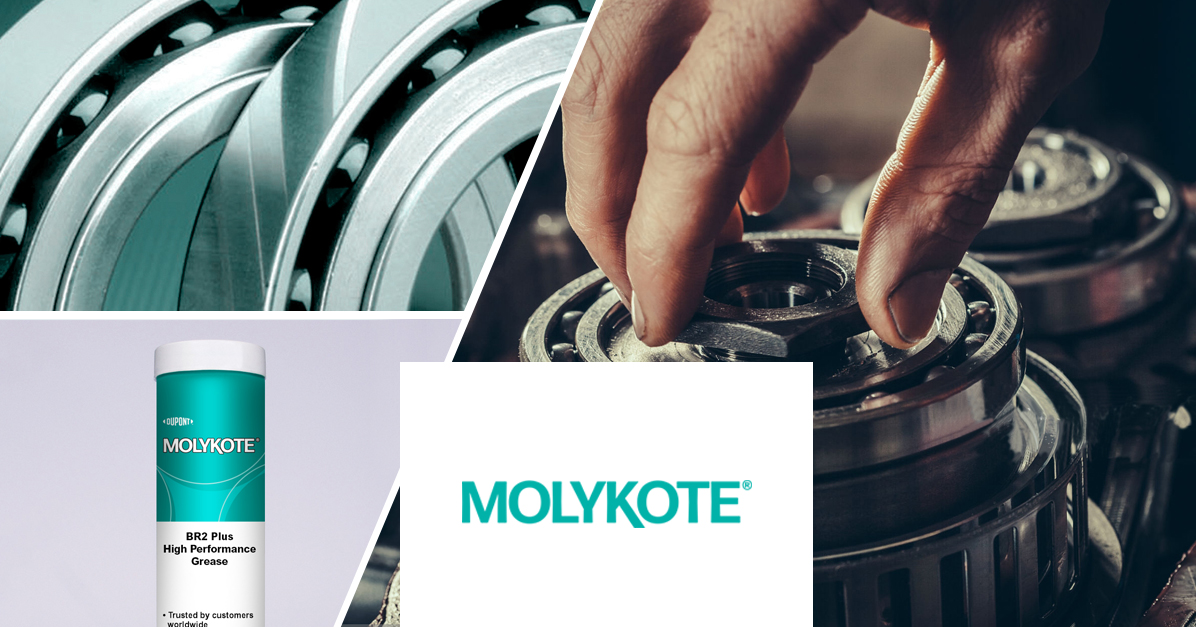 Use the Molykote™ BR 2 Plus for long-term lubrication of your highly loaded high-speed bearings.
High load greases are greases with extreme pressure additives commonly known as ep greases or MoS2 grease or molybdenum disulphide grease.
These additives, which may be metal oxides but are generally based on MoS2 i.e. molybdenum disulphide, enable the grease to withstand high loads.
The benefits of Molykote™ BR 2 Plus :
Extreme pressure grease,
Long-lasting lubrication,
Good protection against scratches,
Good protection against corrosion and fretting corrosion
Temperature resistance range = -30 to +130°C
Load = 3600 N
MoS2
Colour : Black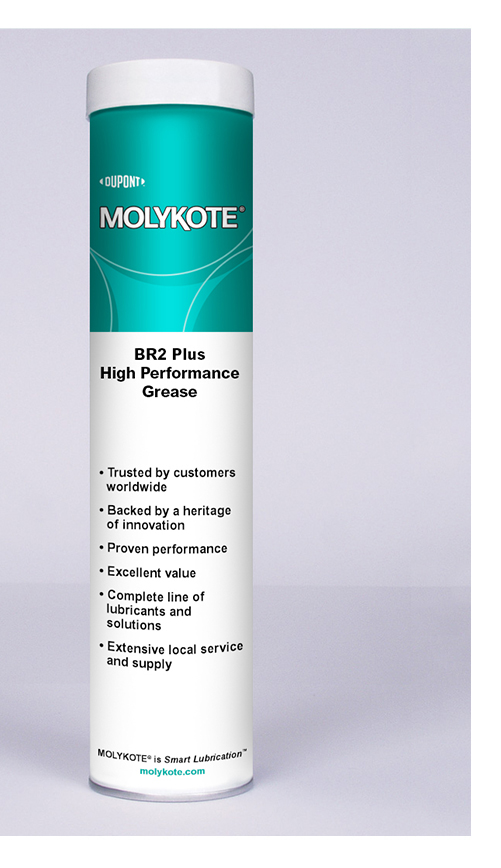 Applications :
Molykote™ BR2 PLUS is a highly loaded grease for bearings, plain bearings, guide rails, spherical plain bearings, splined shafts and threaded spindles.
Molykote™ BR2 PLUS is available
Reminder :
In order to achieve optimum lubrication and to limit wear in a bearing or bearing as much as possible, it is necessary to take into consideration :
the operating temperature range,
the rotation speed (calculation of the Dn factor see next page),
the applied load (4-ball test see next page),
the nature of the materials in contact,
the environment (humidity, steam, chemical aggression, water washing, etc.).
Calculating speed :
Calculation of the Dn factor (speed) The Dn factor is used to evaluate the resistance of a grease to centrifugation and to avoid the breakage of the lubricating film.
For a bearing, the formula is: Dn = internal Ø of the bearing x number of revolutions per minute.
For a bearing the formula is: Dn = (internal Ø + external Ø) /2 x number of revolutions per minute. The value obtained must always be lower than the value mentioned in the selection guide.
The 4-ball test :
The 4-ball test (load), expressed in Newton, enables the extreme pressure performance of a grease to be evaluated. Three steel balls are held in a bowl and support a fourth ball which is loaded and rotated at a given speed. The applied load is increased in increments until the rotating ball makes contact with the other three balls and seizes. The welding load thus determined is representative of the extreme pressure capacity of the grease.
More informations :
Need information on MOLYKOTE® lubricants ? Contact our technical department on +33 426 680 680 or fill in our contact form.
You can also download our selection guide dedicated to industrial lubrication and maintenance: