MOLYKOTE® P-1042, Adhesive lubricant for machining chucks, machine tools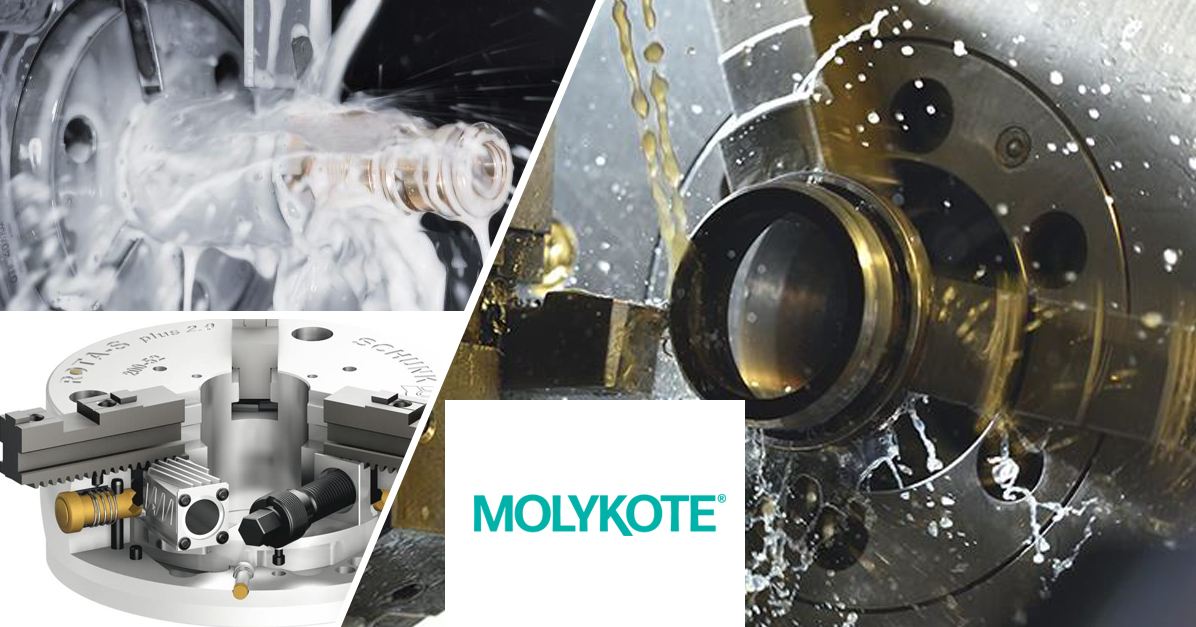 Exceptional resistance to water washout, moisture and metalworking emulsions
Manufacturers use aggressive fluids in turning machine tools such as lathes, turning mills and milling machines. Highly scrub resistant lubricants with reliable tribological performance are required for use on chucks to allow ease of use, reduce downtime and minimise maintenance cycles.
MOLYKOTE® P-1042 Adhesive Grease Paste is a light-colored paste enriched with solid lubricants, designed for sliding surfaces exposed to high pressure loads and under the influence of water or metalworking emulsions. Thanks to a patented formula specifically designed to properly lubricate clamping mechanisms,MOLYKOTE® P-1042 Paste allows manufacturers to provide a constant clamping force on lathe chucks and allow disassembly.
In addition, MOLYKOTE® P-1042 Paste does not present any hardening problems in service.
High load-carrying capacity – DIN 51350 pt. 4-ball test machine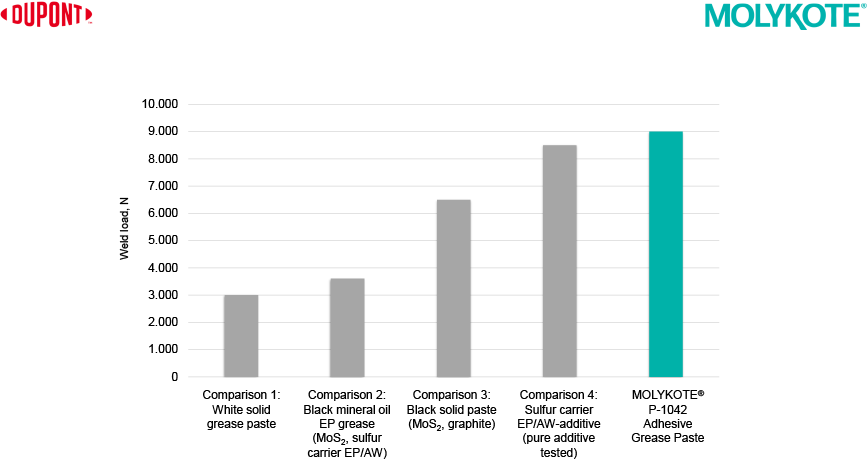 Very good performance while withstanding water washout and aggressive coolants.
Meet the performance needs that MOLYKOTE® P-1042 adhesive paste offers:
– High load capacity
– Exceptional resistance to water washout and metalworking emulsions
– Avoid tribo-corrosion
– Stick-slip prevention
– Excellent protection against wear of metallic materials due to friction and aggressive environment .

Protection against corrosion and water washout
| Corrosion protection test: Emcor | Water wash test | Water emulsion test |
| --- | --- | --- |
| | | |
| DIN 51802, 7 days, distilled water | DIN 51807 pt. 2, 1 hr @ 80°C | |
| Result : No corrosion. | Result : < 5 wt%. | Capable of absorbing up to 30% by weight of water without loss of consistency |
Compatibility test of static machining fluids
Grease immersed in an emulsion of machining fluid at 23°C and sometimes mixed by hand to check whether it can be dissolved in the emulsion.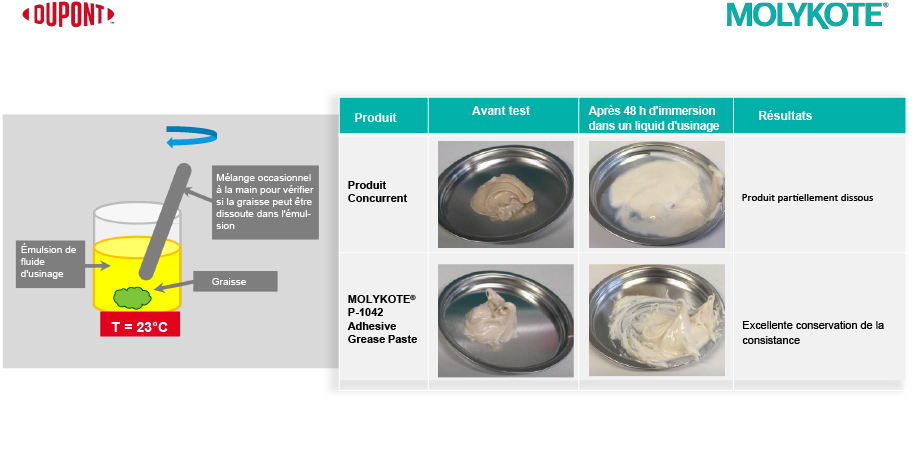 More information :
MOLYKOTE® P-1042 is available :
Downloadthe material safety data sheet.
Need information about MOLYKOTE® lubricants ? Contact our technical department at +33 426 680 680 or fill in our contact form.
Download the description dedicated to the Molykote™ P-1042 :