Molykote, proposes a new version of its brochure dedicated to anti-friction coating
DuPont – Molykote updates its selection guide for industrial and automotive anti-friction coatings.
DuPont, with anti-friction coatings (AFC), offers its customers long-term, high-performance lubrication (lifetime lubrication in most cases) as well as high efficiency.
What is an Anti-Friction Coating (AFC) ?
An anti-friction coating provides dry, clean lubrication unaffected by dust, dirt and moisture. It is often described as "lubrication paint" and rather than color pigments, AFC Molykote® contains solid lubricants.
What are the roles of anti-friction coatings?
The role of an anti-friction coating is to provide long-lasting corrosion protection and effective lubrication. Molykote® AFCs form a dry film and optimise the friction of metal, plastic and elastomer parts, even when they are subjected to heavy loads and sensitive and harsh operating and environmental conditions.
Molykote® anti-friction coatings help customers improve safety, reliability and performance by controlling friction and wear, preventing component failure, extending lubrication intervals and reducing production and operating costs.
How to apply an anti-friction coating?
Anti-friction coatings are easily applied by spraying, brushing, centrifuging, roller coating or screen printing. After curing, the bonded dry lubricating film provides long-lasting wear protection with a certain level of corrosion protection and is resistant to dust and environmental contamination.
The benefits of Molykote anti-friction coatings:
Ideal for use in dirty, dusty, humid environments and on inaccessible parts that require long-term lubrication.
Economical to apply
Reduces lubrication intervals
Provides dry and clean lubrication unaffected by dust, moisture and dirt,
Provides lifetime lubrication without ageing, evaporation or oxidation even after prolonged interruption
Provide corrosion protection (rust prevention without galvanic surface treatment)
Provides non-flammable, non-staining protection on metals, plastics and elastomers
Provide a controlled film thickness for each type of load
Proven solutions in the industrial and automotive sectors.
Regarded as failure-free lubricants, Molykote® anti-friction coatings are valued by leading engineers and manufacturers worldwide and are trusted for use where maximum endurance is required in a wide variety of applications, from increasingly electrified, self-contained and energy-efficient vehicles to industrial challenges where functionality, connectivity, safety and durability are essential.
Some applications examples in the automotive industry :
Piston skirt coating
Starter motor anchors
Lock mechanisms,lock-catching plates and
locking levers, safety hooks
Molykote® D-10-GBL
Molykote® D-6600
Molykote® LF 3400A
Molykote® D-708
For increased durability and emergency lubrication on pistons and piston rings. Reduces noise and friction while increasing efficiency and fuel economy
Low friction for lifetime durability of metal-to-metal pairings. Suitable for start-stop systems
Long-term lubrication and corrosion protection. Not affected by dust
Some applications examples in industry :
Examples of applications in industry and the automotive industry:
Rubber and plastic components, such as O-rings and seals
Molykote® D-9100
Transparent dry film coating for rubber and plastic components. Reduces and controls friction, wear and noise. Flexible coating resists elongation. Excellent adhesion. Long service life; high productivity and processing speed with UV curing.
More information :
Need information about MOLYKOTE® lubricants ? Contact our technical department at +33 426 680 680 or fill in our contact form.
Download the new selection guide for Molykote® anti-friction coating: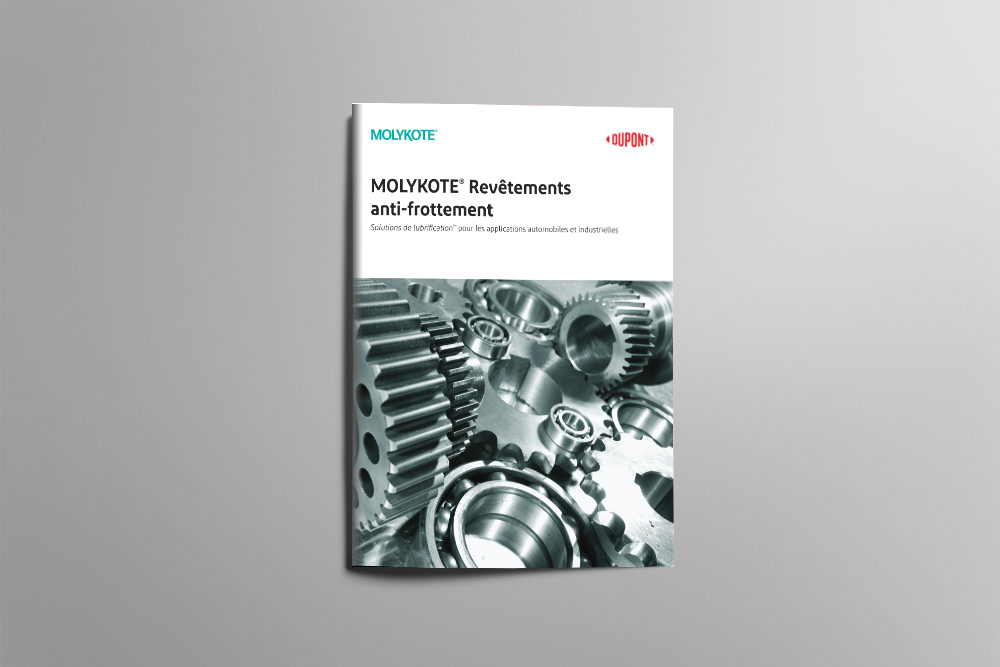 You can also download our selection guide dedicated to industrial lubrication and maintenance: