NVH product range for vehicle interiors
NVH product line for vehicle interiors: Remove interior noise once and for all.
Long-lasting, high-performance Krytox™ lubricants help you deliver the quiet ride today's drivers demand. Offering once-and-for-all lifetime lubrication, broad material compatibility and non-migrating properties, the Krytox™ portfolio of fully synthetic perfluoropolyether (PFPE) based oils and greases contains the perfect solution to eliminate noise generated by friction or vibration between all vehicle interior components and materials.
Choose the Krytox™ high-performance lubricant solution that is perfect for you
The following chart and table detail the specific interior applications, properties and benefits of our Krytox™ lubricants for NVH and BGC issues, so you can choose the solution that meets your challenges. From sunroofs and cup holders to gear shifts and brake pedals, our line of high-performance lubricants addresses NVH (noise, vibration and harshness) and BGC (buzzing, squealing and rattling) throughout the vehicle, even in the most extreme conditions, ensuring a luxury ride every time.
Where do Krytox™ lubricants perform better? Everywhere.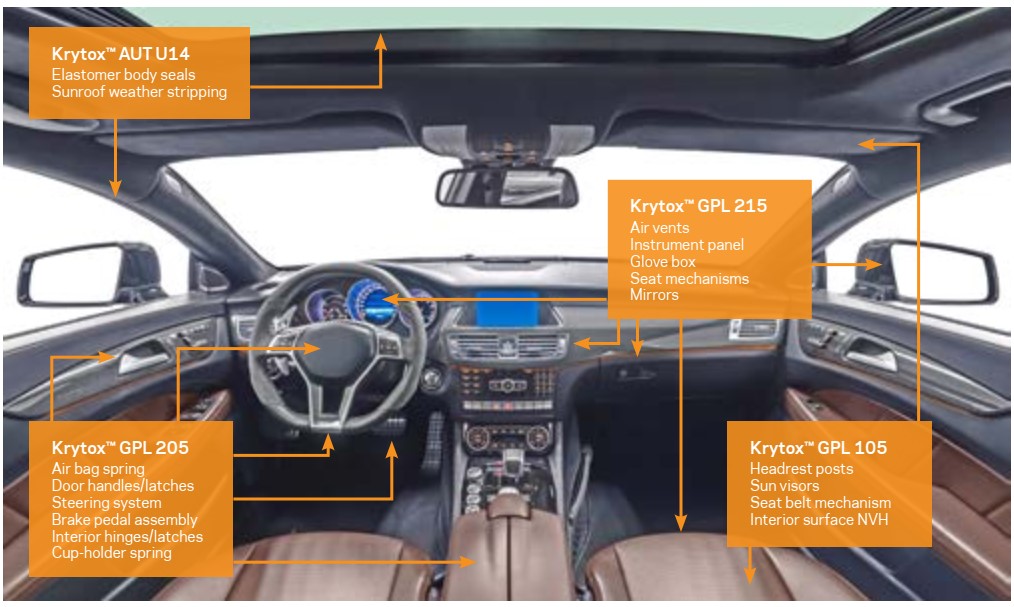 Application-specific product recommendations
Application
Recommended product
Features
Benefits
Weather Stripping & Seals
Elastomer body seals
Door, hood and trunk seals, requiring excellent surface wetting, low volatility and prevention of NVH or stick-slip problems.
Krytox™ AUT U14
Low viscosity, colorless oil
Krytox™ AUT U14 is specially formulated to reduce stick slip on elastomeric surfaces. Its superior properties include excellent surface wetting washout resistance, and no VOCs. Contains a UV indicator
Sunroof weather stripping
Elastomeric seals exposed to the exterior, requiring reduced slippage and resistance to contamination and washing.
Exposed interior surfaces
Headrest posts
Exposed sliding contacts between metal and plastic require lifetime lubrication, NVH prevention and a wide operating temperature range.
Krytox™ GPL 105
Medium viscosity, colorless oil
Krytox™ GPL 105 is used for applications requiring lifetime lubrication. The main advantages are high temperature lubrication, low volatility and low migration
NVH of interior surfaces
Prevents NVH and stick-slip caused by close contact of different materials, including synthetic leather, ABS and PC-ABS.
Seatbelt mechanism
Safety system requiring lifetime lubrication over a large temperature range to maintain easy operation for the user.
Sun visors
Plastic-to-metal contacts requiring lifetime lubrication and a wide operating temperature range
Gears, Springs, Hinges, & Latches
Air bag spring
Safety systems requiring lifetime lubrication with constant viscosity over specific operating temperatures
Krytox™ GPL 205
White, thickened PTFE grease with creamy consistency (NLGI Grade 2)
Benefits of Krytox™ LPG 205 include no VOCs, low volatility, broad material compatibility and excellent cost effectiveness. Material compatibility and excellent lubricating properties across high operating temperatures
Brake Pedal Assembly
Mechanical springs and pinch points require consistent performance over a wide range of operating temperatures to maintain comfortable operation for the operator.
Cup-holder spring
Spring mechanism requiring low migration and resistance to contamination
Door handles / latch mechanisms
Mechanical components requiring vibration damping, contamination resistance and a wide operating temperature range.
Gear shifter
Recessed mechanical systems requiring NVH reduction and consistent operation at specified operating temperatures.
Interior hinges / latches (e.g. center console, glove box, media compartment door)
Mechanical components requiring excellent lubricity, low migration, low volatility and a wide operating temperature range.
Miroirs
Gears and drives requiring wide temperature lubrication and wide material compatibility
Steering systems
Mechanical system requiring lifetime lubrication, NVH prevention and consistent operation over wide operating temperatures..
Inaccessible and difficult to reach surfaces
Air Vents
Partially exposed plastic contacts require lifetime lubrication to reduce NVH and facilitate system operation. Black grease is preferred to hide lubrication points
Black, thickened PTFE grease with creamy consistency (NLGI Grade 2)

Krytox™ GPL 215 provides lifetime lubrication for inaccessible and hard-to-reach surfaces

Instrument panel
Contact surfaces requiring NVH reduction. Black grease is preferred to hide lubrication points.
Seat mechanism
Mechanical systems requiring lifetime lubrication to reduce NVH and facilitate operator comfort. Preference for low-migration, high-lubricity lubricants.
Stop noise!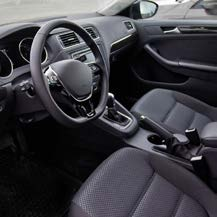 From eliminating NVH problems to maintaining component performance under extreme conditions, KrytoxTM high-performance lubricants redefine what's possible. We're ready to help you solve your toughest engineering challenges.
Source: Krytox Performance Lubricants Automotive Interior NVH Product Line Document