PERMABOND TA4230: A New Flame-Retardant Structural Adhesive with Outstanding Performance for Enhanced Safety
Technological innovation continues to push the boundaries of flame-retardant adhesives, and PERMABOND takes a leap forward with the launch of its revolutionary adhesive, TA4230. Combining rapid polymerization with exceptional performance, this structural acrylic adhesive exhibits an impressive ability to extinguish flames. Fully compliant with UL94 V-0 standards, Permabond TA4230 provides adhesion to a wide variety of substrates while requiring minimal handling time at room temperature. Discover how this versatile adhesive meets the requirements of various applications, from electric vehicle batteries to building construction.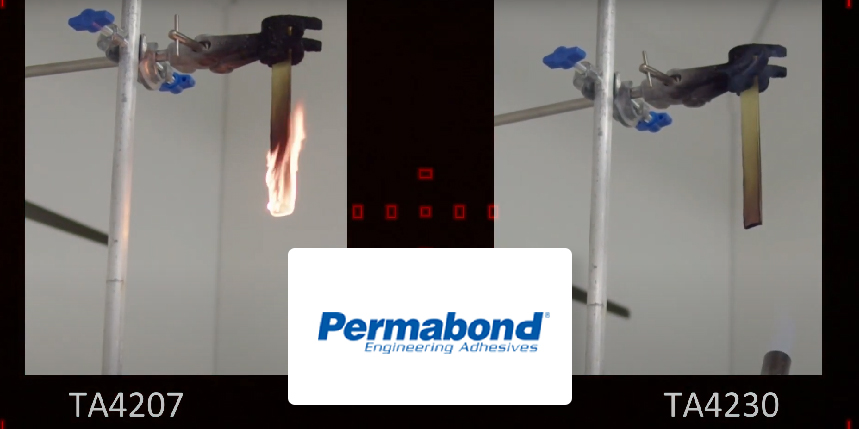 Features and Benefits
Exceptional Adhesion
The structural MMA adhesive TA4230 offers remarkable adhesion to a wide variety of substrates, including metals, plastics, composites, and ceramics. Whether you need to bond electric cables in electric vehicle batteries or assemble composites for exterior building coatings, this adhesive will meet your needs.
Fast Handling Time
With a handling time of just 10 to 20 minutes at room temperature, Permabond TA4230 MMA adhesive allows for efficient and quick work. You can save time during your bonding operations while ensuring a strong and durable bond
High Mechanical Strength
The structural MMA adhesive Permabond TA4230 provides high shear and peel strength on many substrates, making it an ideal choice for demanding applications. Its impact resistance ensures a reliable bond, even under mechanical stress conditions.
Compliance with Safety Standards
Permabond TA4230 has undergone extensive third-party testing to ensure compliance with UL94 V-0 flame-retardant standards. This certification confirms the adhesive's ability to effectively resist flame propagation and contribute to the fire safety of your application.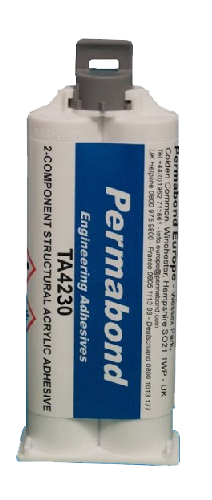 Key Applications for TA4230
The Permabond MMA adhesive TA4230 opens up new possibilities in various sectors:
Electric Vehicle Batteries: Encapsulation and sealing of electric cables for improved safety and efficient insulation.
Coatings: Bonding of composite materials such as Alucobond for durable and aesthetically pleasing exterior building coatings.
Vehicles and Transportation: Ability to assemble composites for bus and train interiors, ensuring passenger durability and safety.
Shopfitting and Construction in Public Spaces: TA4230 adhesive can be used for bonding different materials in public spaces, offering flame resistance and excellent adhesion.
Watch the following video to see the flame retardant effectiveness of Permabond TA4230
Permabond TA4230 Fire retardant
In conclusion, PERMABOND TA4230 is a flame-retardant adhesive that provides superior performance for demanding bonding applications. Its ability to adhere to a variety of substrates, rapid curing, and high mechanical strength make it an ideal choice for complex bonding applications. Compliant with UL94 V-0 standards, this adhesive ensures protection against fire hazards, thus enhancing safety.
More info
Need more information on the Permabond TA4230 or the Permabond MMA range? Contact our technical department on +33 426 680 680 or fill in our contact form.