Samaro has updated its selector's guide dedicated to composites.

Samaro proposes a new version of its selection guide dedicated to the creation of composite materials.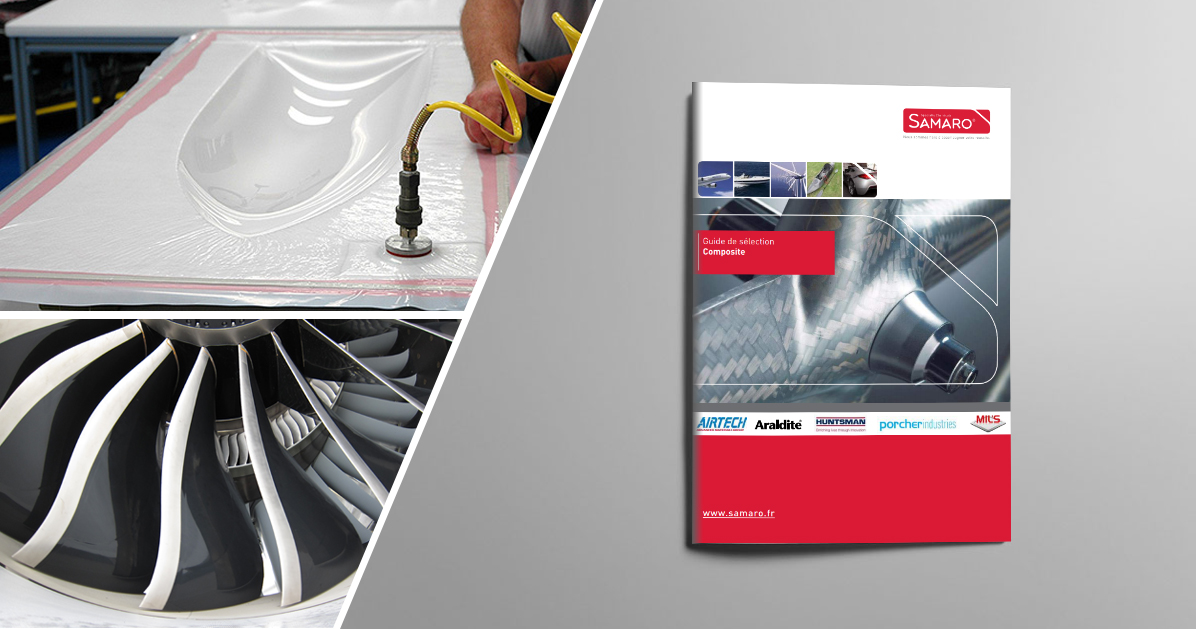 The brochure aims to offer you a non-exhaustive list of recommendations for each application, both in terms of the composite component itself and the tools to implement it.
The use of composite materials is constantly increasing, whether in the aeronautics, automotive, sports or leisure industries.
For example, recent aircraft are 50% composite materials. They have gradually established themselves in these fields, replacing traditional materials such as plastic, wood or metals, by meeting certain criteria: rigidity, weight, behaviour in the face of humidity and corrosion, fatigue resistance etc…
Composite materials can be defined as an intelligent combination of several materials with the following characteristics
The new features brought by this new edition :
Porcher industries, an essential partner in the design of material solutions for aeronautics, automotive, construction, industry, enriches our technical brochure with its offer of Balanced Glass E fabrics, E UD / Unbalanced glass fabrics, E glass fabrics – Black finish – Carbon aspect, S-2 glass fabrics, balanced glass fabrics, unidirectional carbon and finally Kevlar aramid fabrics.
To illustrate the types of reinforcement, schemas :
Porcher industries, partenaire incontournable dans la conception de solution matériaux destinés à l'aéronautique, l'automobile, la construction, l'industrie vient enrichir notre brochure technique avec son offre de tissus Verre E Equilibrés, tissus verre E UD / Déséquilibré, tissus verre E – Black finish – Carbon aspect, tissus de verre S-2, tissus de verre équilibré, carbone unidirectionnels et enfin les tissus Aramide Kevlar.
Pour illustrer les types de renfort, des schemas :

A glossary, to help you understand all the subtleties related to reinforcements:
Fiber:

Warp: All the threads running parallel to the length of the fabric.
Weft: Set of parallel threads in the direction of the width of the fabric. Perpendicular to the weft.
Wick: An assembly of continuous fibres, usually held together by twisting.
Tex: Weight of yarn per kilometre.

Reinforcement:

Mat : Reinforcement mat, made of short (or continuous in some cases) fibres held together by sizing.
Roving fabric: A more or less elaborate fabric made of a set of basic yarns assembled without twisting or sizing.
Surface veil : Glass mat of 30 grs. It is used to reinforce the gelcoat and to avoid the marking of the fibre on the gelcoat.
Silionne: Continuous glass yarns, made from drawn glass filaments, assembled by drawing and twisted to hold them together. It is stronger than verrannes (discontinuous glass yarns) and is used to make fabrics and UDs.
UD: Unidirectional fabric. Fabric in which all the fibres are only in the warp direction (held together by a very fine thread, this thread only serves to hold the fibres together).
Satin: A type of weaving where a single warp yarn passes under several weft yarns. This results in a fabric with one side having more warp threads and the other side having more weft threads.
Taffeta: A type of fibre weave in which the warp and weft threads cross alternately one by one above and below each other.
Twill : A type of fibre weave in which the warp threads cross over and under several weft threads.
Balanced" fabric: Fabric with the same distribution between the warp and weft threads.
Multiaxial: An assembly of unidirectional fabrics, where each fabric is oriented in a different direction. The different fabrics are held together by a thread.
Finish: The fabric is enzimed to facilitate weaving. Once woven, it undergoes a heat treatment and then a finish is applied to promote the adhesion of the resin and thus optimize the transfer of matrix/reinforcement forces.
New visuals to illustrate the peripherals of the vacuum

Airtech Advanced Materials Group is the largest manufacturer and supplier of vacuum bagging products in the composite field (tear-off fabric, separator film, drainage grid, infuser, resin connector, vacuum bagging film,…), Airtech is a supplier to major players in the aeronautics, aerospace, automotive, wind power, motorsport market etc.

And of course… :
You will find in our Composite selection guide :
The essentials of our offer:
The realization of the mould
Contact stratification

Epoxy resin (Araldite®)
Polyester and vinylester resin (Alyancis®)

The infusion
Adhesives dedicated to composites
Etc.
More information :
Need more information about our Composite offer? Contact our technical department at +33 426 680 680 or fill in our contact form.
Download our new Composite selection guide.