The infusion process step by step.
e
What is the infusion?
The infusion consists of dry stacking the different layers of fibres (on the GelCoat or not) inside the rigid mould and vacuum packing the whole assembly with the help of a hermetic membrane.
The layers are impregnated by the migration of the resin sucked in by vacuum along a drainage channel.
This process allows a higher fibre volume rate (60% compared to 40% in contact moulding), better protection of the operators while maintaining the possibility of producing large parts.
Below is a schema describing the infusion process for a boat hull mould: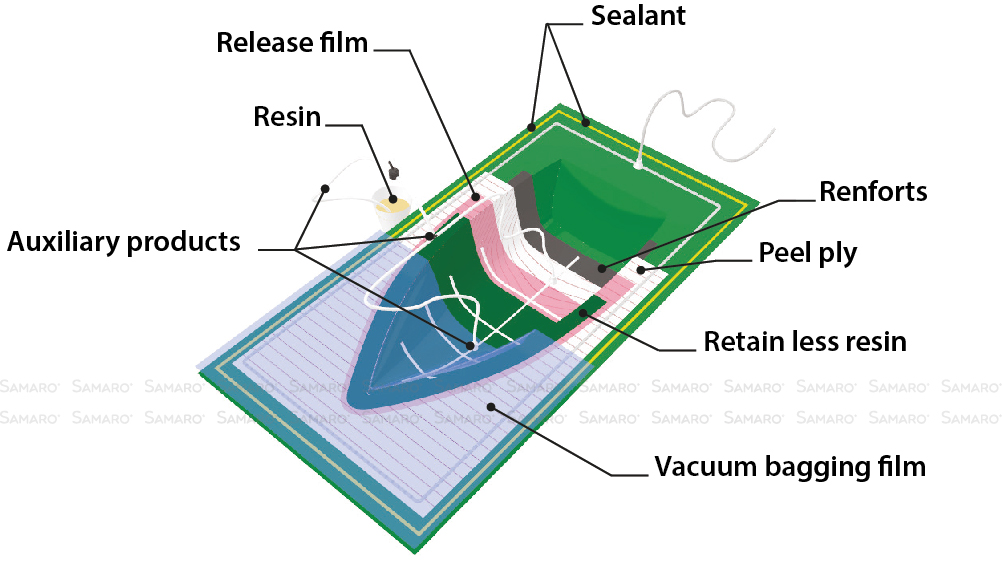 Composite resin systems for infusion
| | |
| --- | --- |
| | Property |
| Araldite® LY1564 / Aradur® 3486 | Araldite® LY 1564 / Aradur® 3486 is laminating system with low viscosity and high flexibility. |
| Araldite® LY1564 / Aradur® 3487 | Araldite® LY 1564 / Aradur® 3487 is laminating system with low viscosity and high flexibility. The reactivity may easily be adjusted to demands through the combination of both hardeners. |
Vacuum devices for infusion – Airtech auxiliary products.
Airtech Advanced Materials Group is the leading manufacturer and supplier of vacuum bagging products in the field of composite materials. Airtech is a supplier to major players in the aerospace, aeronautics, automotive, wind energy, motor sport and other markets.
Peel ply
Applications
Airtech®Econostitch® G
L'Econostitch® is an economical peel ply with good performance when used with both polyester and epoxy resins
Airtech®Econostitch®
L'Econostitch® is a nylon peel ply with red tracers which make this peel ply more visible before and after a cure, reducing the possibility of the peel ply being left on the part
Release films
Applications
Airtech® Wrightlon 3900 NP
Is a high elongation release film (500%) with excellent release properties. Ideal for compacting applications.
Airtech® Wrightlon 5200 B P3
Is a release film with good elongation and temperature resistance (260 ° C). It is easy to remove and allows the manufacture of complex shapes.
Retains less resin
Applications
Airtech®GreenFlow 185
Is a economical retains less resin very used in infusion process
Airtech®Knitflow 160
Knitflow 160 is designed to assist resin flow through the part during the vacuum assisted resin infusion process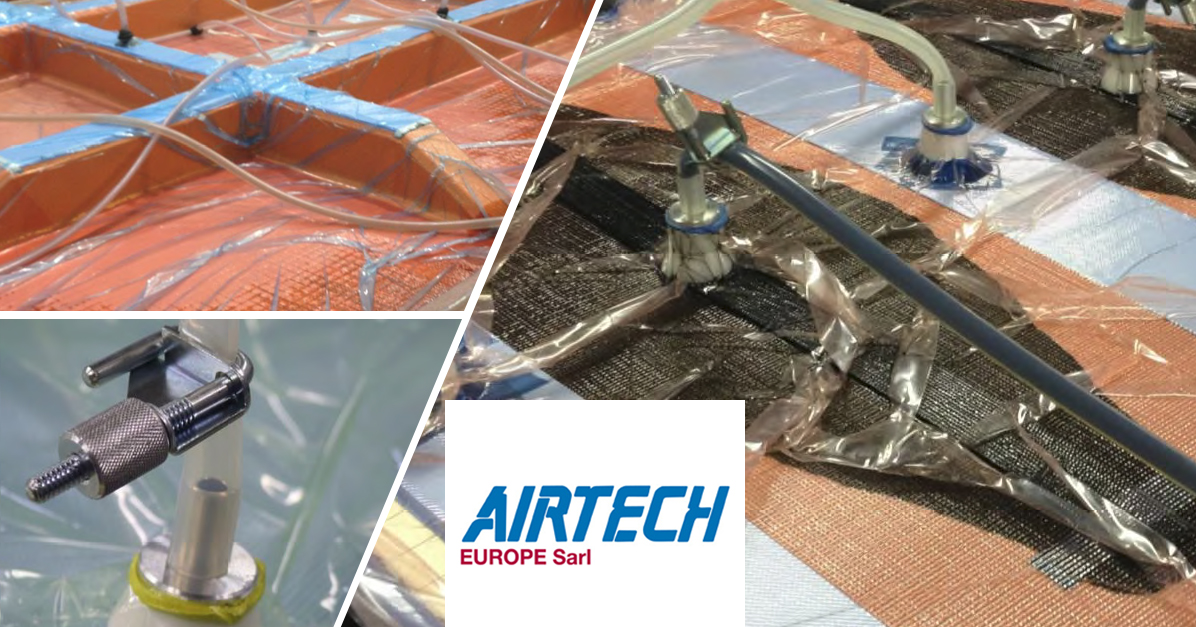 Vacuum bagging films
Applications
Airtech®Big Blue
The Big Blue L100 is a multilayer vacuum film available in wide width. It is economical and mainly dedicated to infusion.
Airtech®KM 1300
The Ipplon® KM1300 is a high elongation vacuum film. Excellent for prepreg molding or autoclave infusion.
Sealants
Applications
Airtech®Cordon butyl AT200Y
AT200Y from Airtech is a sealant with excellent adhesion. It is ideal for composite applications up to 204 ° C.
Airtech®Airseal®2
Is an economical sealant. It is recommended in composite applications at low and medium temperatures (up to 150°C).
Auxiliary products
Applications
Airtech®Raccord nylon cannelé en "T"
Nylon Barb T Fitting
Airtech®Raccord nylon cannelé coudé
Nylon Barb Elbow Fitting
Airtech®Resin infusion connector RIC 1/2
The Airtech Resin infusion connector (RIC) provides inexpensive and efficient through bag connection for use with spiral tube vacuum manifold and resin feed lines for low temperature resin infusion application
Airtech®Barb fitting infusion valve
Barb Fitting Infusion Valve
Airtech®Poly spiral
Tubing for resin feed and vacuum connections. Can be easily cut and connected with range of coupling, elbow and T fittings.
Airtech®Poly tubing
Spiral tubing for resin feed lines and vacuum manifolds around part edge. Can be easily cut and connected with range of coupling, elbow and T fittings
Airtac®2E

Is a spray adhesive designed for temporary bonding. Airtac 2 LH can be used to hold dry materials on contours and vertical surfaces.
More information :
Do you need information about Airtech ? Contact our technical department on +33 426 680 680 or fill in our contact form.
Download our brochures dedicated to composite and auxiliary products :