Update for Samaro thermal management brochure
New update for Samaro thermal management brochure
Samaro release a new version of its thermal management brochure for the electronic applications
Some new products have been added for the potting, thermal adhesives, and thermal interfaces applications.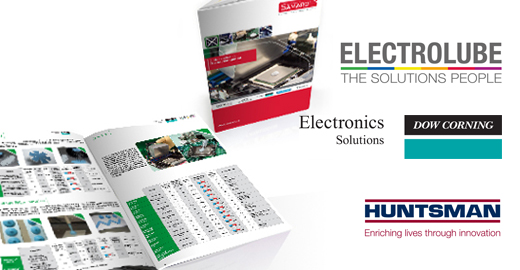 •For the potting part, the Huntsman Araldite brand is now present with products like the epoxy resin Araldite CW1302/Aradur HY1300 which has a thermal conductivity of 0.88W/m.K and which is certified EN45545-2, the new European railway certification, or the resin Aratherm CW2731 (thermal conductivity of 3W/m.K and certified Class H (>180°C)).
In silicone, the last Dow Corning TC-6020, a new silicone encapsulant with a thermal conductivity of 2.72W/m.K for the applications which requires a soft material.
•Regarding the thermal conductive adhesive, we added the new silicone RTV adhesive Dow Corning TC-1500 (thermal conductivity of 1.55W/m.K)
•For the thermal interface part, you will find the new :
Silicone thermal pad, Electrolube GP300 (3W/m.K) and Electrolube GP500 (5W/m.K),
Non-silicone thermal pad, Electrolube NGP200 (2W/m.K) and Electrolube NGP300 (3W/m.K)
Phase Change Materials (PCM) in screen printable versions : Electrolube TPM350 (3.5W/m.K) and Electrolube TPM550 (5.5W/m.K)
GapFiller Dow Corning TC-4515 and Dow Corning TC-4515GB which have a thermal conductivity of 1.5W/m.K