DuPont™ Molykote®, is developing a new high performance grease hazardous free
High-performance adhesive grease-paste MOLYKOTE® P-1042 Adhesive Grease Paste was originally developed for industrial lathe chucks, which require a constant clamping force in harsh environments.
As manufacturers use more aggressive fluids in metal machines and clamping mechanisms such as lathe chucks, highly water washout resistant lubricants with reliable tribological performance are essential to reduce downtime and decrease relubrication cycles.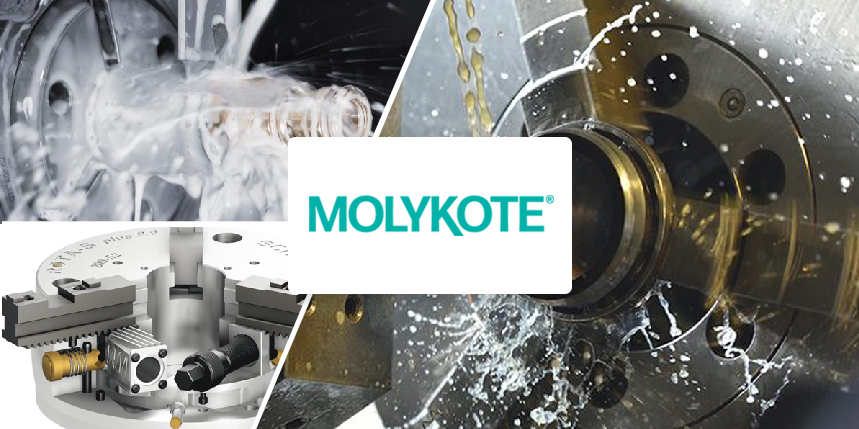 MOLYKOTE®P-1042 Adhesive Grease Paste, the new very high load grease for metal to metal combinations.
MOLYKOTE® P-1042 Adhesive Grease is a light coloured, enriched with solid lubricants, designed for sliding surfaces exposed to very high loads ( 9000 N) at high pressure and subject to the influence of water or metal working emulsions.
GWith a patented formula specifically designed to properly lubricate clamping mechanisms, MOLYKOTE® P-1042 enables manufacturers to provide consistent clamping force on lathe chucks. In addition, MOLYKOTE® P-1042 does not have any curing problems in service.
Technical advantages Molykote® P-1042 Adhesive Grease
High performance grease for metal/metal combination,
Hazardous free according to CLP
Very high load capacity (9000 N),
Very adhesive,
Resistant to water washout and machining emulsions,
Prevents chattering,
Excellent protection against corrosion and scratching
In addition, Molykote® P-1042 Adhesive Grease Paste with no risk phrases is more environmentally friendly, as it reduces the release of harmful chemicals into the environment. This is especially important for industries that produce wastewater, as these chemicals can contaminate the water supply.
Overall, using Molykote® P-1042 Adhesive Grease Paste without hazard symbols reduces the risk of harm to people and the environment, making it a safer and more sustainable option.
More info
If you would like to know more about Molykote® P-1042 Adhesive Grease Paste or other products in the MOLYKOTE® range, please contact our technical department on +33 426 680 680 or fill in our contact form. Download our selection guide.