Distributor of high performance specialty chemicals
With 45 years of experience, we are recognised as a major player in the distribution of specialty chemicals. With a portfolio of market leading brands, we offer a wide range of excellent products, structured around 5 universes:
 special lubrication
adhesive and sealant
electrical and electronic protection
composites
models and molding
Unique on the market, our offer allows us to propose solutions with high technical added value to our industrial customers.
Serving a wide variety of markets
The specialty chemicals we distribute have been selected for their very high quality standards. As undisputed references in each of their market segments, they enable us to meet the specific needs of industrialists and the most complex specifications. Every day, we work with major players in the aeronautics, automotive, railway, electronics, energy and food industries. But we are just as committed to serving start-ups and innovative project leaders with the same high standards, who come to us for tailor-made solutions and expert advice.
« Our client portfolio? From new energies to aeronautics. »
« As a distributor of speciality chemicals for almost 45 years, we have always wanted to position ourselves in a high-end segment. The products we sell all have in common that they are products of excellence, with very high technical added value and manufactured by recognised brands, leaders in their markets. These products can have a wide range of applications in all sectors of industry. Our customer portfolio is very varied: it ranges from new energy players to aeronautical giants. »
Frédéric MENOU
Agency Manager - Ile de France
Be part of a long-term strategy
Founded in 1976, Samaro belongs to a family group based in Lyon. This capital structure is the basis for a company strategy that is resolutely long-term. Each year, our profits are reinvested to finance our growth and consolidate the future of the company and its employees.
A long-term vision shared and supported by our teams: attached to Samaro's values, committed to their customers and partners, with a high level of expertise, they are committed to offering a quality service, guaranteeing the company's long-term future.
A commitment illustrated by our signature: "We are proud to support your success.»
Offering tailor-made support
Since its creation, Samaro has sought to build itself around strong values: technical expertise, high standards, transparency and creativity, which are essential for innovation. But also, a great mastery of the market and its players.
Our experience, our relational and geographical proximity with our customers are all assets to accompany them in their industrial problems. Our customer service is exemplary. Every day, our teams work hard to meet the needs of our customers as closely as possible, by providing them with a perfectly adapted product. And if it does not exist in our partners' ranges, by offering to adapt it in a customised formulation or packaging.
« Customer service as opposed to an impersonal call centre »
« Samaro has a reputation for being an easy company to work with. Every day, my team and I strive to live up to this reputation! For example, we receive many requests via our website: technical questions or requests for quotes, we make it a point of honour to give everyone a personalised response within half a day. Whether it is a small or large customer, we treat all our contacts with the same care. As the meeting point between the customer and the company's various internal departments, our role is very rewarding. It is an essential link in the chain of customer satisfaction. »
Valérie ANDRÉ
Sedentary Sales representative
Present in France and beyond
With the desire to be as close as possible to our customers, we have 3 sites in France: in Beynost, near Lyon, where our head office is located, in Nantes and in the Île-de-France region. From these logistics centres, we are able to deliver, with a very high level of responsiveness, to our customers throughout France, but also in 18 countries in Africa and North Africa.
As a founding member of the European grouping DGE (Distributors Group Europe) created in 1996, Samaro benefits from the power of a structure established in 27 countries in Europe. This Europe-wide presence allows each member to have access to shared resources in terms of purchasing, logistics, technical support and research laboratories.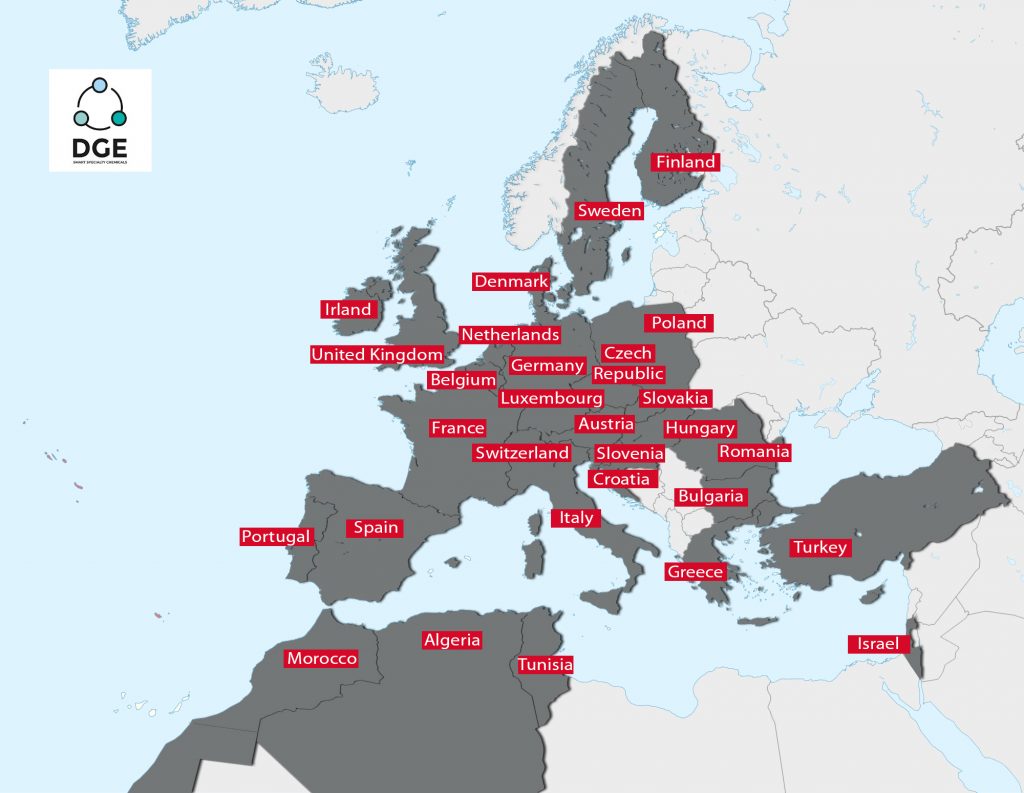 Samaro, figures that speak volumes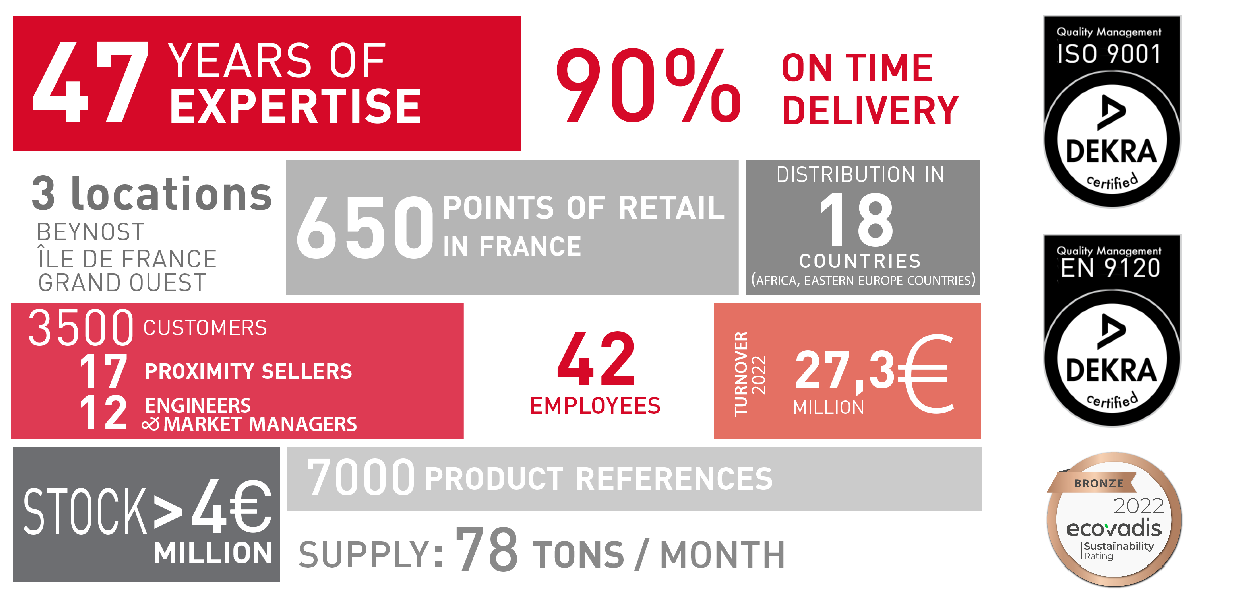 A constant concern for quality
At Samaro, we are convinced that quality is a team sport! More than a standard or an official certificate, it is the result of everyone's commitment to continuous improvement. It is at the heart of our strategy: without it, nothing is possible. It is a daily requirement at all levels of the company: from the logistics warehouses to relations with our partner brands, from the technical and commercial departments to the health and safety of our teams.
Our quality approach is regularly monitored by third party organisations. Samaro is ISO 9001 certified, and since 2018, EN 9120 certified, which is essential to meet the requirements of the aeronautical industry. A recognition that testifies to Samaro's excellence… and that all our customers benefit from.
A commitment to CSR
At Samaro, we are aware of our responsibility to the Environment, Society, Ethics and Sustainable Procurement. We have undertaken a CSR approach to focus on good practices nowadays so that society's interest is not at the expense of future generations.
Our CSR approach is controlled and validated by the ECOVADIS organization. Since 2021, Samaro has obtained the Ecovadis bronze medal.
« At Samaro, quality is everyone's business ! »
« Our entire quality approach is customer-focused. For us, quality is not a certificate, it is a tool to better satisfy our customers and develop the company. It is the result of everyone's commitment, every day, in every position. It is present everywhere with the same level of requirement: in the management of the company, in our technical approach, in the relations we have with our partners and customers, in our logistical organisation, in our communication, in the safety and health of our teams... and of course in the respect of the standards.  Every time we improve, every time we gain in quality, it is a collective success ! »
Stéphanie JARNIEUX
Head of Quality
The Institute, emblematic of Samaro's expertise
With the aim of offering ever more innovative support and pushing back the boundaries of what is possible, Samaro created in 2017, at the heart of its headquarters in Beynost, an institute dedicated to full-scale testing and experimentation.
Within a 200 m2 space equipped with equipment for numerous tests, our engineers and technicians validate pre-industrial hypotheses, and impartially test approaches aimed at facilitating the specification, approval and pilot testing processes of our customers.
The Samaro Institute is also a training centre. In an ever-changing environment where technologies and standards are constantly evolving, it provides ongoing training for our teams. At the same time, it offers tailor-made training programmes for our customers.
Because a picture is worth a thousand words
You often have them on the phone, don't wait any longer, discover our teams in flesh and blood!