DuPont™ Molykote® offers a range of products dedicated to the lubrication of electrical connectors in the automotive sector
Discover the Molykote® range of lubricants dedicated to the automotive sector and specifically to: electrical connectors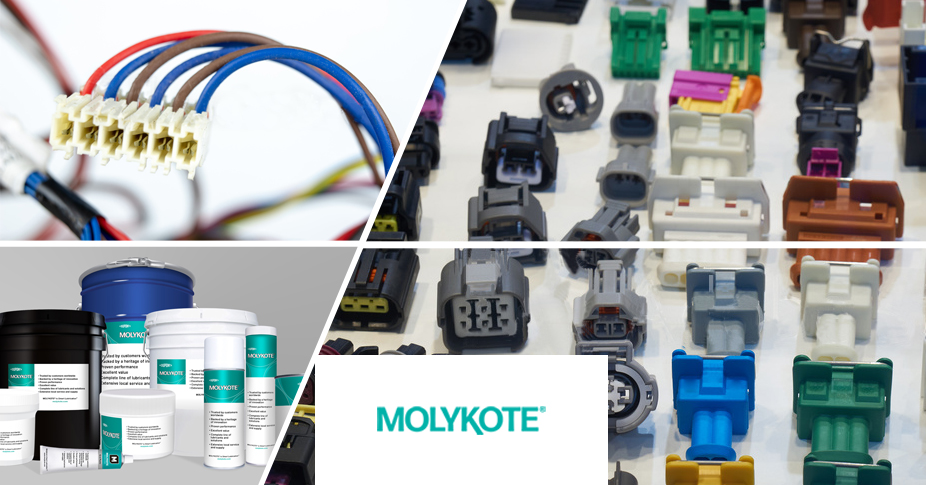 DuPont™ Molykote® has developed a range of Smart Lubrication™ products specifically for automotive applications. In this article, we will focus on the products used for electrical connector lubrication:
Alternative drive systems, ever more sensors and cameras everywhere, digital dashboard: more and more applications in today's vehicles rely on plug-in connections. Electrical connectors, switches and sensors are subject to strong vibrations, frequent temperature changes as well as a large number of plugging and unplugging cycles.
To meet these demands, proper lubrication is essential to provide maximum protection of electrical connectors against corrosion and premature wear throughout the life of the vehicle, even under harsh environmental conditions.
Below is a selection of DuPont™ Molykote® lubricants already proven in the automotive industry and specifically for electrical connector lubrication:

Standard products used
Molykote® 111 is silicone compound for gaskets and seals (silicone excluded),Sealant for outdoor equipment subject to washing and harsh environmental exposure : meters, service entrances and electrical connections. Wide temperature range. Excellent resistance to water washout.
MOLYKOTE® 4  is used for lubrication of cable connectors, battery terminals, rubber door seals, switches, plastic and rubber Orings automotives ignition systems and sparkplug connections, cutoff circuits in electric wiring systems and connections.
MOLYKOTE® 5 is a thermal and dielectric grease that helps prevent electrical arcing and flashing on insulators and bushings.  It is also suitable for preventing rust and corrosion on insulator threads and bolts. To help prevent arcing and flashing on insulators and bushings.
Additional requirements
Dielectric properties
Molykote® G-5008 is used to lubricate spark plug boots in the automotive industry and electrical connectors. Molykote™ G-5008 has excellent dielectric properties, wide service temperature range, compatible with rubber and ceramics, inhibits bonding of rubber to ceramics.
High-temperature performance
Molykote® HP 300 is a fluorinated grease (PFPE) used in metal/metal and metal/plastic combinations at medium speeds and high loads (4500N) in a clean, corrosive or extreme temperature environment (-65°C to + 250°C).
Plastic and elastomer compatibility
Molykote® D-9100  is a flexible lubricant coating withstands parts elongation / High productivity and processing speed with UV curing. Molykote™ D-9100 forms a dry lubricant film without thermal damage or extended drying time. It can be applied on many types of rubber and thermoplastics.
More informations :
Need information on MOLYKOTE® lubricants ? Contact our technical department on +33 426 680 680 or fill in our contact form.
You can also download our selection guide dedicated to industrial lubrication and maintenance: