Grease 33 Medium Light  from Molykote
Grease 33 Medium and Light from Molykote Extreme Low Temperature Bearing Grease is designed for several application in very low temperature until -70°C.
Application for Molykote™ 33 Medium :

•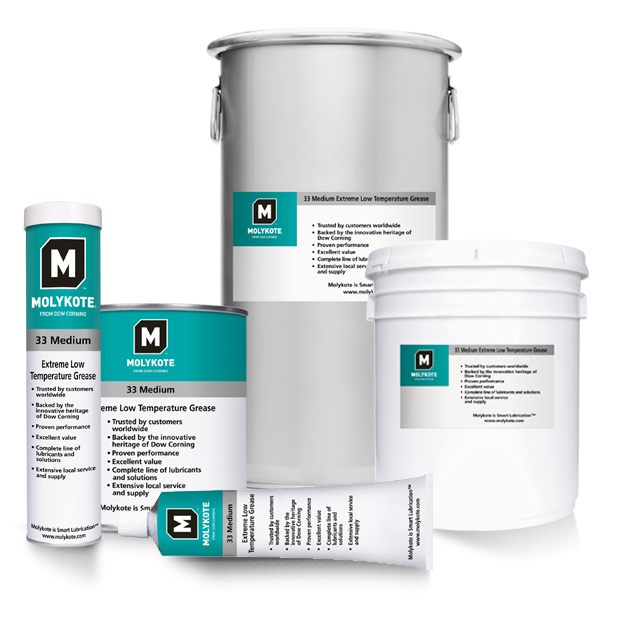 Freezer cart casters and cold room conveyor equipment
• Utility disconnect switch contacts
• Plastic electric clock motors
• Maximum-demand meters, power-factor meters, watt-hour meters
• Windshield wiper motor gears
• Photographic, optical and surveying equipment
• Oscillographs, geophysical and light, low-torque instruments
• Starter clutch drives
Plastic compatibility
Grease 33 Medium and Light from Molykote™ does not soften or affect most plastics and are used to lubricate plastic gears, bearings and cams, as well as metal and rubber parts. Because of low torque requirements, Grease 33 Medium / Light is especially effective in equipment that must start in extreme cold.
Oxidation Resistance
Grease 33 Medium and Light from Molykote™ is recommended for use in units that must remain operable when subjected not only to low and high operating temperatures, but also to severe weathering and oxidation.*
More information :
Download our selector guide :


Guide de sélection
Lubrification et
maintenance industrielle
Ask your question to our technical service to 04 26 680 680 or by mail.