Charging Stations for Electric Vehicles: The Importance of Adhesives
The world is evolving rapidly, and with it, the number of people who want to quickly charge their electric vehicles is on the rise. Whether due to government incentives, the satisfaction of contributing to environmental preservation, or the desire to follow the latest trends, more and more people are now turning to electric vehicles (EVs) for their next car purchase. This has opened up immense opportunities for EV charging station manufacturers. Indeed, the global market for these stations is expected to reach an impressive figure of $111.9 billion by 2028, compared to its value of $17.6 billion in 2021. A growth that deserves recognition.
However, despite these optimistic forecasts, the EV charging station industry is currently facing persistent reliability issues. Recent surveys have revealed that in certain regions of the United Kingdom, up to 10% of charging stations do not work on any given day, while this figure reaches about 20% in the United States. For the electric vehicle industry to reach its full potential, it is imperative to quickly address these reliability issues.
Reliability and the Role of Adhesives in EV Charging Station Manufacturing
Part of this reliability issue is due to inadequate software, such as faulty payment systems or charging point apps that crash. Another part of the problem stems from suboptimal construction quality of the charging station unit, a problem that seems to affect manufacturers, whether they are large or small. Enter: adhesives for EV charging stations!
The right adhesive ensures a stronger and more reliable charging unit, capable of withstanding internal and external stresses, such as harsh weather conditions. Additionally, they help reduce repair and maintenance costs. The right adhesive also ensures that maintenance, when needed, can be easily performed while providing optimal protection to the charging unit when it is not. In general, adhesives also offer resistance to heat and other types of stress, given the heat generated by these charging units.
Our partner Permabond offers a selection of adhesives that are a perfect match for the EV charging station market. Indeed, they provide adhesives suitable for various applications within this industry. Below is a non-exhaustive list of applications.
Applications of Adhesives for EV Charging Stations:
Encapsulant for EV Charger Connectors:
The role of encapsulating adhesives in EV charger connector cables is essential. They ensure a sturdier and more durable charging cable by encapsulating the components inside the connector housing. They also keep the electrical wiring in place inside the charger. These connectors are inserted and removed from vehicle chargers multiple times a day. Therefore, the adhesive used must be robust and able to withstand heat, shocks, and even fire. Our two-component modified epoxy, Permabond MT382, is ideal for these applications. It adheres perfectly to nylon, ABS, polycarbonate, and other plastics, as well as various metals. It is black in color and can cure at different mixing ratios depending on the required flexibility in the final product. A fully flame-resistant version is available upon request.
Anaerobic Threadlocker:
Permabond offers a variety of threadlockers suitable for almost every application. Permabond HH131 anaerobic threadlocker has very high heat resistance (up to 230°C). Permabond A1042 has rapid curing and excellent shock resistance, while also being heat-resistant up to 150°C. This adhesive is particularly suitable for assembling metal parts that may require disassembly and/or subsequent repair, much like our medium-strength threadlocker, Permabond MM115.
Gasketing :
Permabond LH197 is a flexible flat sealing adhesive, ideal for bonding dissimilar metals where thermal expansion variations could be an issue. Permabond MH196 offers less flexibility but excellent heat resistance, up to 200°C. The Permabond TA4611 acrylic adhesive is perfect for bonding plastic casings of EV charging stations.
Conformal Coating :
The UV-curing adhesive Permabond UV681 is perfect for conformal coating applications, such as those found in AC and DC charging stations. It has low viscosity, ensuring a smooth and bubble-free coating, and high-temperature resistance.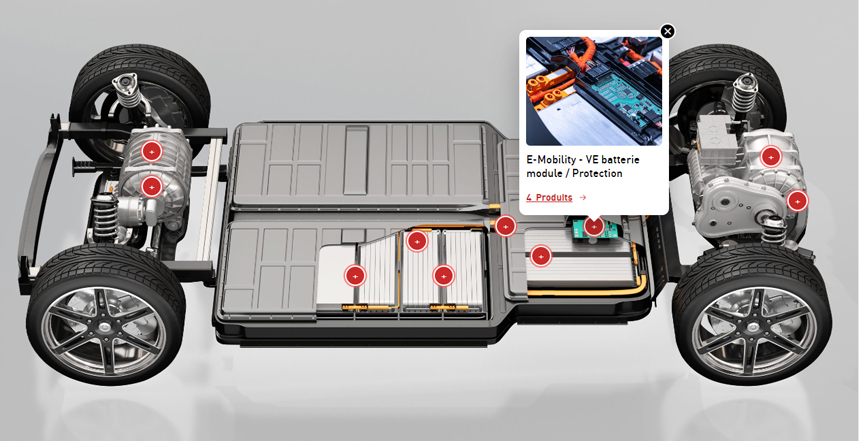 Learn More About Our E-Mobility Market Solutions
Feel free to visit the "Market" page on our website to discover how Samaro is revolutionizing electric mobility by offering comprehensive solutions for electric vehicle battery systems with innovative electronic components. Their expertise ranges from lightweight and high-density batteries to energy conversion systems, promoting EV growth. Through their assembly, sealing, thermal dissipation, and electrical protection solutions, Samaro enhances the performance of individual batteries to packs and control systems.
More info
Need further information about Permabond's offering for the E-Mobility market? Contact our technical service at +33 426 680 680 or fill out our contact form.