Samaro, member of DGE (Distributor Group Europe) appointed by DOW: Distributor of the Dowsil™ PV range in France.
Solar energy: Dow, the global leader in silicone chemistry, with its Dowsil™ brand, develops technologies and solutions dedicated to the solar energy industry at all levels of the value chain.
Innovative solutions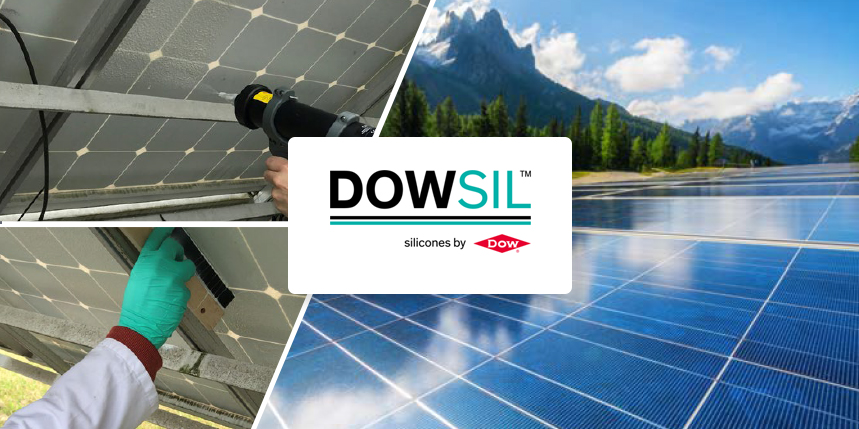 Products for the assembly and repair of photovoltaic modules
As the global photovoltaic (PV) market continues to grow, the demand for durable, reliable and higher performing solar panels is critical. Dow offers a broad base of chemistries and technologies in high-performance materials – tested to meet the specific requirements of the solar industry – that help create more reliable solar panels.
With over 50 years of expertise, we work with leading solar companies to improve the durability, quality and reliability of solar panels. with leading solar companies to improve the durability, longevity and performance of photovoltaic systems. We understand that materials drive innovation and we are helping to meet the challenges of solar panel manufacturing by leveraging our experience and expertise. We understand that materials drive innovation and we help to meet the challenges of solar panel manufacturing by drawing on our expertise in silicone, polyolefin and polyurethane.
By offering encapsulants and sealants for your electronic components, adhesives for rail bonding, frame and junction box sealing, repair and protective coatings, and materials for optics, we can help you make your applications more efficient and reliable.
As a major player in the silicone industry, DOW and SAMARO provide the various operators with solutions to meet their expectations, particularly for applications:
Cell Encapsulation: DOWSIL™ PV-6326
Junction box encapsulation: DOWSIL™ PV-7326 Potting Agent
Framing and junction box bonding: DOWSIL™ PV-804, DOWSIL™ PV-8404,
Bonding of the guide rails: DOWSIL™ PV-8301 Fast Cure Sealant, DOWSIL™ PV-8303 Ultra Fast Cure Sealant
Backsheet repair: DOWSIL™ 7094 Flowable Sealant
Electrically Conductive Adhesive: DOWSIL™ EC-8425 Electrically Conductive Adhesive
In this video, find out how to achieve sustainable performance from photovoltaic panels:
DOWSIL™ 7094, self-levelling silicone sealant for photovoltaic panel repairs
Let us help you create panels with longer life and better reliability. Contact our technical department and let's work together to make the global expansion of solar energy, necessary for the energy transition, a reality.
Maximising the reliability of energy conversion
From the output of the solar panel onwards, a solar power system requires efficient and reliable components to optimise and reliably convert the energy to be used or stored. Advanced silicones provide improved warranties for the industry with excellent resistance to ageing in a wide range of harsh environments to which outdoor devices may be exposed during their lifetime.
Our advanced adhesives, encapsulation and thermal management products protect outdoor electronics from environmental impacts, remove heat to improve efficiency and provide long life for solar power generation systems.
Solar inverters used on photovoltaic module strings convert captured energy into a useful form for return to the grid, storage in a battery or use by the consumer.
Power optimisers and microinverters increase efficiency by mitigating power losses due to panel mismatches, and allow for greater flexibility in solar panel installations.
Dow has several validated and proven technologies to protect these important conversion devices, including thermal protection and sealing solutions.
More info
Would you like more information about Dow's DOWSIL™ Photovoltaic range? Contact our technical department on +33 426 680 680 or fill in our contact form.