What grease should be used to lubricate the internal mechanisms of kitchen robots?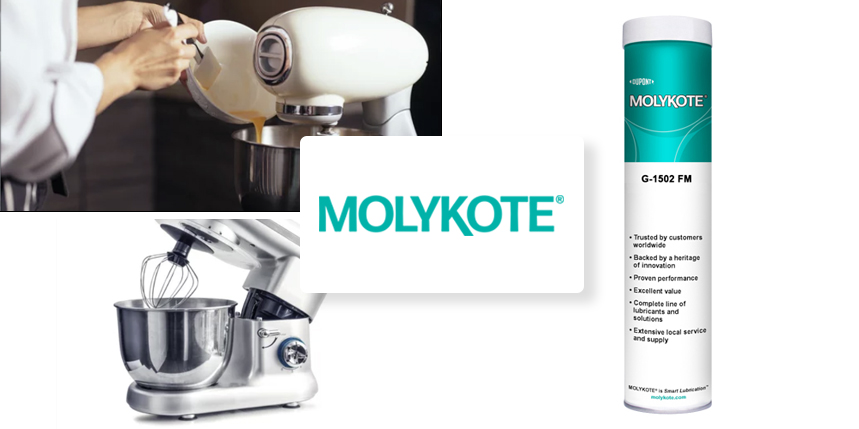 Why is it important to use the right product to lubricate the gears and worm gear of kitchen robots?
The kitchen robots used in the past only by the professionals of the catering industry (restaurants, communities, caterers, pastry cooks, …) are nowadays appreciated by the general public.
These food robots have found their place in a large number of French kitchens. They facilitate the life of many households and also respond to a major challenge today, that of eating more healthily. If today there is a wide range of the kitchen robots, we will focus on the top of the range because they are subject to a number of requirements and constraints more important.
Indeed, professionals and individuals who equip themselves with high-end robots expect them to meet the following requirements :
Longer life of the device,
Reduced motor noise (good lubrication of open gears and robot worm gear)
Therefore, proper lubrication is not only essential for optimal use of the food processor, it is also a guarantee of quality.
The problems found due to inadequate lubrication :
Plastic incompatibility,
Bleeding (lubricant may flow),
Noise generated (squeaking, vibration),
Grease not resistant to high speeds (centrifugation)
MOLYKOTE® G-1502 FM, meets the specifications of kitchen robots manufacturers.
MOLYKOTE® G-1502 FM is a white grease that can be used in applications where an adherent grease is required, such as here, for the lubrication of open gears and worms of the kitchen robot where centrifugation cannot be tolerated.
MOLYKOTE® G-1502 FM was chosen for the following reasons :
Centrifugation resistant,
Reduces operating noise (squeaking, vibration)
No bleeding (grease stays in place for the life of the vehicle)
White
NSF-H1 approved
Compatible with most plastic materials
Can be applied with a dispensing machine
Withstands high speeds
Withstands temperatures from -40°C to +150°C.
Technical specifications of the MOLYKOTE® G-1502 FM :
PAO base oil
Water washout resistant
Extremely adhesive synthetic grease (very low bleed through)
NSF-H1 approved
Compatible with most plastic and rubber materials
Other applications where the effectiveness of MOLYKOTE® G-1502 FM has been proven:
Lubrication of the following parts where heavy washout is a problem and centrifugation of grease is not acceptable:
chains,
cams,
valves and sprockets
More info :
Need more information about MOLYKOTE® G-1502 FM or the DuPont™ Molykote® product line? Contact our technical service department at +33 426 680 680 or fill out our contact form.