ARALDITE® 2000, The adhesives you need for any industry
ARALDITE® Adhesives Core Range – Nine products that cover 80% of all bonding needs

Serving the wind, bus and road transportation, marine, rail, and general industry markets, Huntsman's ARALDITE® Core Range helps increase innovation, performance and sustainability to address global engineering challenges and contribute to a better quality of life.
Huntsman Araldite renews its logo to introduce a new, smaller, core range that is part of the Araldite 2000 series of adhesives. Therefore, with a new update of Huntsman's logo, it is betting on change and digitization. With this basic range, Araldite is able to cover 80% of the gluing needs with only eight adhesives.
Why is a core range necessary? We are going to find out below:
It's safe, direct and dynamic.
It provides greater innovation, performance and durability.
Secure your production process with nine adhesives.
Simplify your product selection at the beginning of a new project.
Reduce inventory and worker training with versatile adhesives.
Simplify your production and reduce repairs
Did you know that any joint, no matter how complex, is possible thanks to Huntsman and its new Core range of the Araldite 2000 series? These adhesives make it possible to assemble high-performance products or make on-the-fly repairs in difficult conditions.
This selection of eight adhesives also includes products that resist impact, high temperatures, water and chemicals. The line also offers a variety of colors, open times, viscosities and appearances.
More flexibility with less stock
Also, in the range, we can find high performance products in epoxy, acrylic and polyurethane technologies. The products in this range allow for greater innovation, performance and durability, regardless of the sector to which they are applied.
In addition, these adhesives are suitable for use in a wide range of industries:
| | | | | |
| --- | --- | --- | --- | --- |
| | | | | |
| Truck | Railway | Wind | Marine | Industry |
Discover the core range of the Araldite® 2000 series
You can see below our eight adhesives that cover 80% of your bonding needs.
Discover them through this table :
           Two-part epoxy adhesive
          Two-part acrylic adhesive
Two-part polyurethane adhesive

Araldite® 2051
Ultra-fast curing, for applications
in extreme conditions
Find the right adhesive :
In this table you can identify the right product with the materials to be assembled, the maximum operating temperature and the service life required: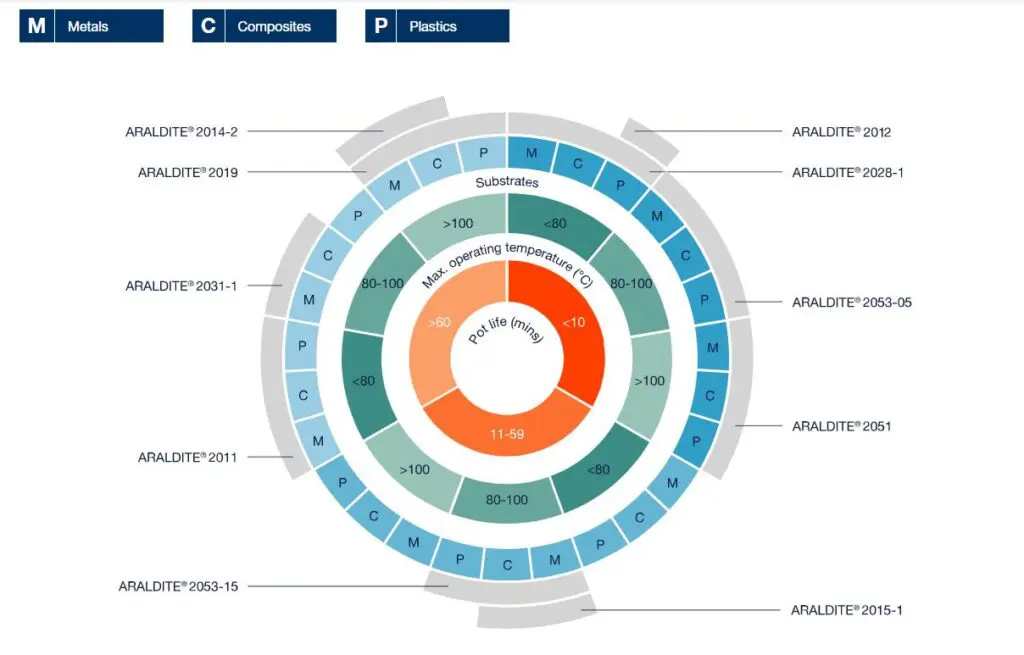 Certifications of the core range of the Araldite® 2000 series
 Also discover the benefits of this range of products:
Certified by Lloyd's Register.
Complies with the hazard level requirements (HL3), classes R1 and R7, of railway standard EN 45545-2.
Approved by KIWA.
Discover the whole Araldite® 2000 series
The Araldite® 2000 range of epoxy, methacrylate and polyurethane structural adhesives is a diverse selection designed to bond a wide range of materials, including the most difficult metals, composites and thermoplastics. With formulations designed to bond thousands of materials and cover different cure times, Araldite® is the most versatile range of adhesives for modern industry.
More information :
Need information on the core range of Araldite® 2000 or on the product range Araldite® ? Contact our technical department at +33 426 680 680 or
fill out our contact form.
Download now the Huntsman white paper dedicated to the boating industry :