Araldite®2080 – low odor, high performance MMA adhesive
The new ARALDITE® 2080 adhesive is a real game changer. Solving long-standing problems with traditional MMA, PU and other structural adhesives, ARALDITE® 2080 adhesive offers exceptional bond strength in an odorless, nonflammable, low-toxicity, primerless solution.
"ARALDITE® 2080 adhesive is truly unique," says said José Fanjul, Strategic Marketing Manager at Huntsman Advanced Materials. "This adhesive line can solve the long-standing issues associated with traditional MMA and PU adhesives and deliver sufficient bonding performance. This will be a game-changer ( for manufacturers who want a structural adhesive that not only increases productivity and saves costs, but also safeguards the wellbeing of their employees."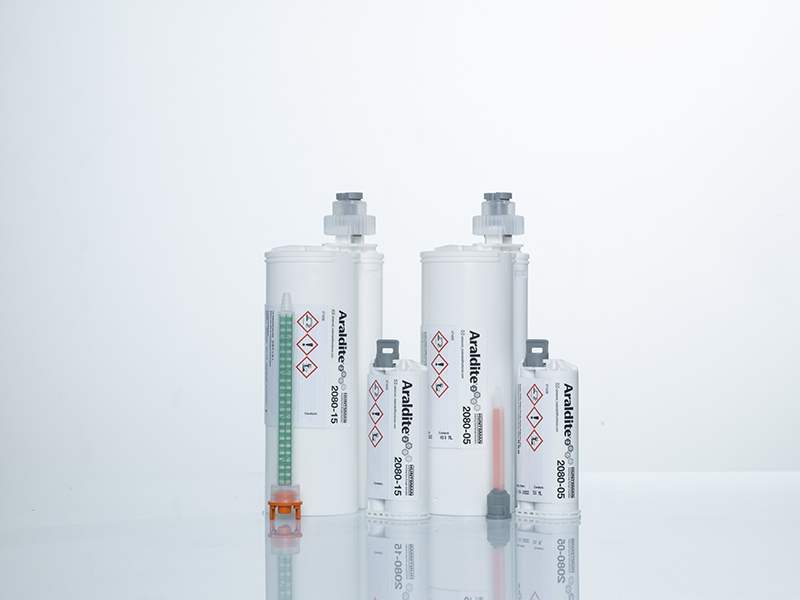 Product benefits
Low odor and non-flammable
High resistance
High durability
High elongation for metals, composites and some plastics
Available in two different open times as required (ARALDITE® 2080-05 & ARALDITE® 2080-15).
Fields of application
Bonding inside wind turbine blade additions
Bonding of metal and composite posts and structures
Bonding of panels, floors and roof parts in buses
Bonding letter signage
Caractéristiques techniques et performances
Two-part MMA adhesive
5/15 mins :Pot life at room temperature
15-30 mins : Fixation time at room temperature
> 18 MPa  : After cataplasma aging test*
90°C : Maximum continuous operating temperature**
> 25 MPa : Tensile strength
> 1200 MPa : Traction modulus
> 50% : Elongation at break
*For the maximum continuous operating temperature, we consider the maximum temperature for which the residual lap shear strength is 1/3 of the lap shear strength at room temperature or the temperature for which the residual lap shear strength is ≤5 MPa.
**after 7 days ISO 9142 E2