How to repair wind turbine rotor blades ?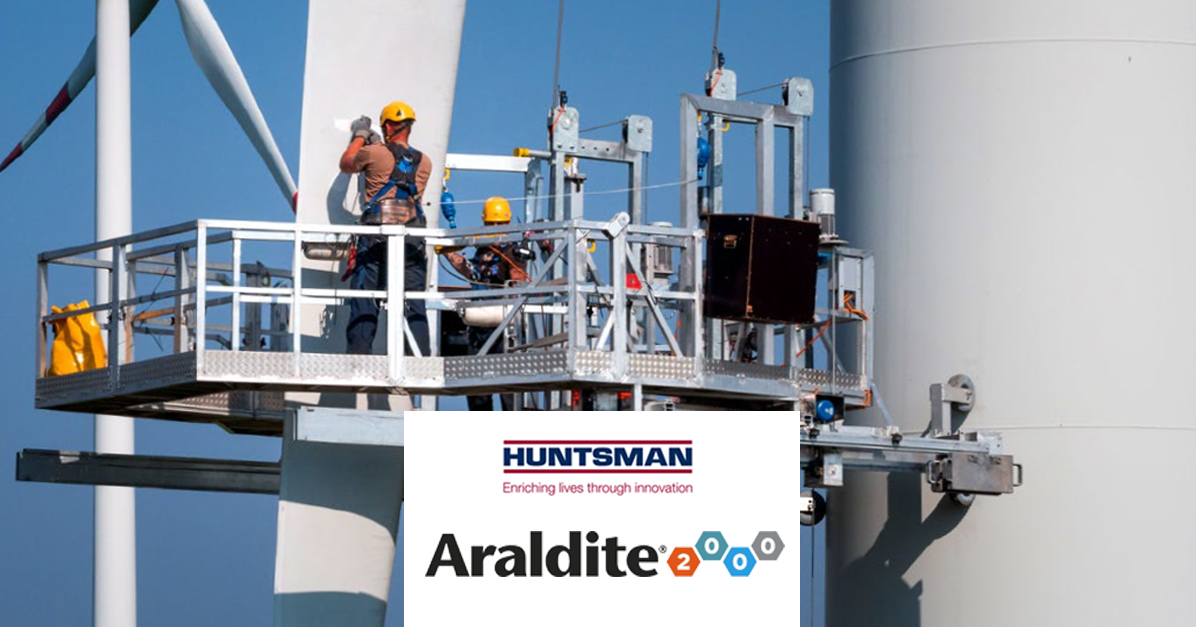 Wind turbine blade manufacturers and maintenance operators need reliable products that can withstand the elements.
ARALDITE® Core Range adhesives provide reliable solutions for injection into the gaps of wind turbine blades after infusion and assembly. We have adhesives with shear thinning properties, low shrinkage, high toughness and room temperature curing, which ensures blade continuity. We also offer adhesives with limited surface preparation and short cure times, so that assembly and repair operations can be carried out quickly.
The ARALDITE® 2000 line of basic adhesives offers wind farm operators choices when they need to make repairs in cold, hot or wet conditions. Equipment downtime can be reduced by up to 50% when you can bond in difficult conditions and extend the repair season.
Challenges encountered in rotor blade repairs
Regular inspections can check for any potential failure or damage to the rotor blades before the turbine fails. This effectively minimizes downtime caused by unexpected repairs.
Technicians can inspect, clean and repair the rotor blades to ensure they are in good condition. When repairing the rotor blade, the technician is suspended from the rotor hub and works fixedly on the blade, which stops in the down position.
Anchor lines can be deployed in the tower or around the blade.
One of the most difficult aspects of rotor blade repair is the resin cure cycle, which can take up to 24 hours to polymerize.
This results in downtime and lost revenue.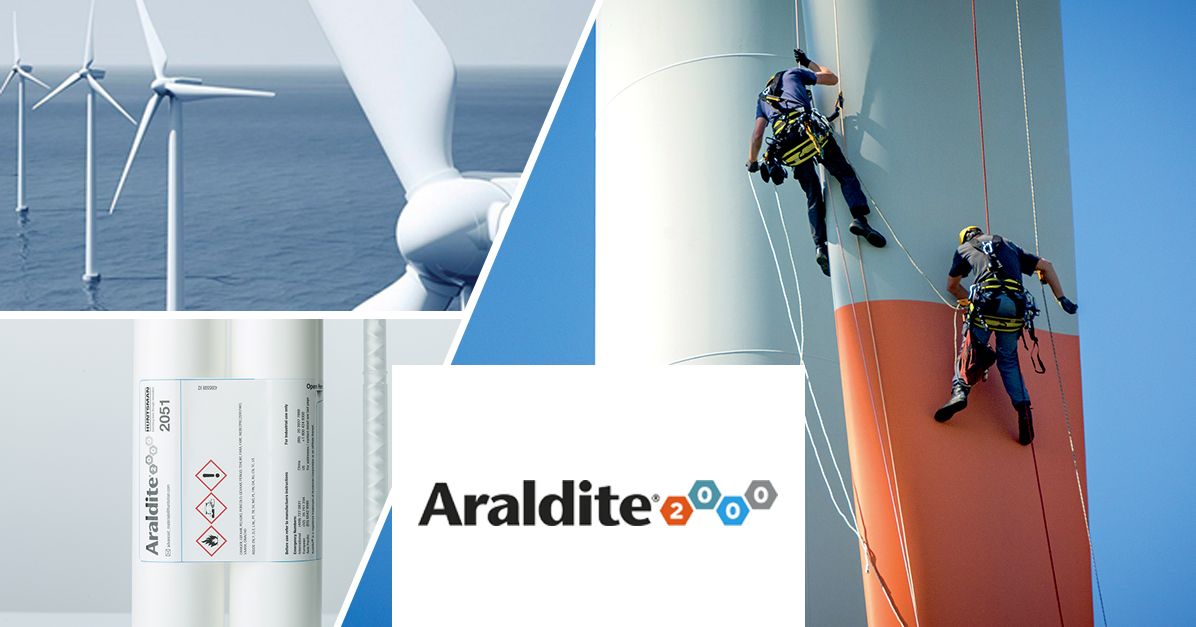 Solutions for the repair of wind turbine rotor blades
Araldite methacrylate adhesives can speed up the repair process. These high strength, fast curing adhesives are capable of bonding and repairing various substrates such as composites, metals and thermoplastics.
Araldite methacrylates have high shear strength compared to epoxies and have good tensile strength.
Our recommended solutions are: Araldite® 2051 and Araldite® 2022-1 (which is not part of the Araldite core range, but has very good technical characteristics).
These two references are available in :
To facilitate application in the field. These cartridges provide a homogeneous mix, allowing the adhesive to be applied accurately, saving time
These adhesives are used to repair leading edge erosion and fill small holes and surface defects.
L'Araldite® 2051 est une colle structurale à prise ultra-rapide spécialement formulée pour l'assemblage de différent matériaux (métaux, plastiques, composites), dans des conditions extrèmes (très basses températures, application sous l'eau, y compris l'eau de mer)
Araldite® 2022-1 : Adhésif méthacrylate bicomposant, à prise rapide. Tolère un prétraitement très superficiel, durcissement rapide, ne coule pas en surface verticale jusqu'à une épaisseur de 4 mm
Reminder of the core range of the Araldite® 2000 series
Please see below for our eight adhesives capable of covering 80% of your bonding needs.
Discover them through this table :
           Two-part epoxy adhesive
          Two-part acrylic adhesive
Two-part polyurethane adhesive

Araldite® 2051
Ultra-fast curing, for applications
in extreme conditions
Find the best adhesives that you need
In this table you can identify the right product with the materials to be assembled, the maximum operating temperature and the service life required: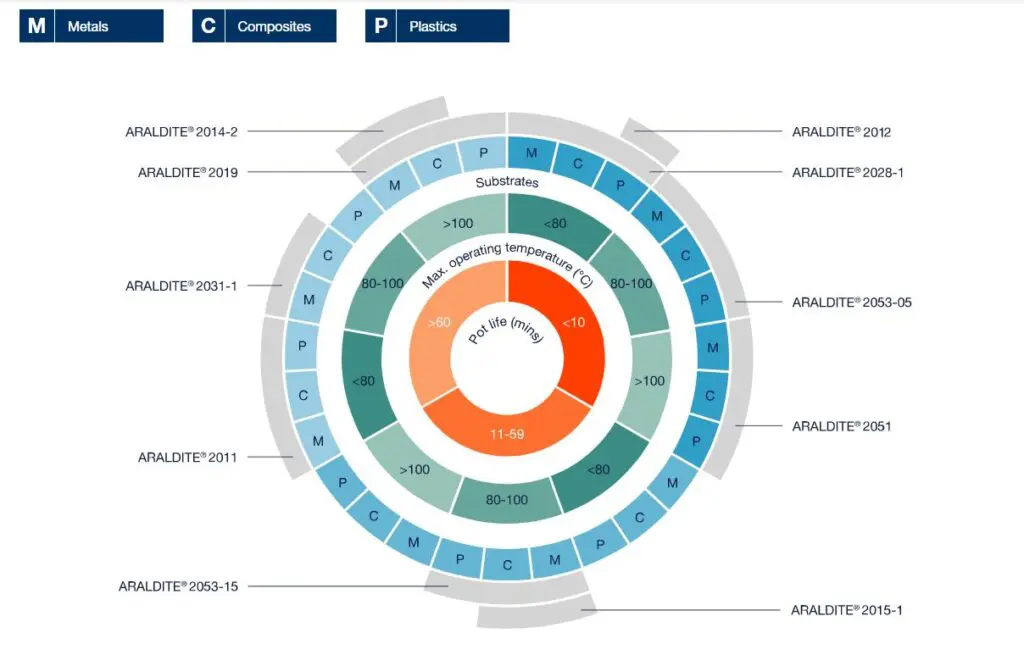 More information :
Need information on the core range of Araldite® 2000 or on the product range Araldite® ? Contact our technical department at +33 426 680 680 or
fill out our contact form.
Don't wait any longer to download the Huntsman – Araldite® Core Range brochure: