MOLYKOTE® CU-7439 Plus, Anti-corrosion copper paste and long-term lubrication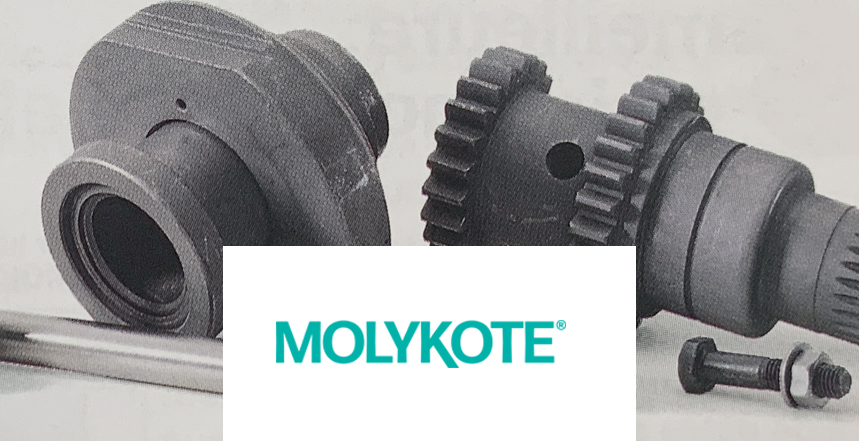 During operation, machine parts and components are exposed to a variety of influences that can affect their function or even cause them to fail. To counteract these effects, lubricants are generally used.
Each lubricant has its own combination of characteristics, which makes it suitable for certain components or types of application. This also applies to copper pastes.
Due to their composition and the resulting properties, copper pastes are suitable for parts that perform longitudinal movements (e.g. sliding sleeves), rotary movements (e.g. bearings) or oscillating movements (e.g. joints).
The adhesion, compressibility, sealing and separating effect of copper pastes help to prevent long-term damage such as (welding) seizure or fretting corrosion, which often occurs without a suitable lubricant. Due to their good adhesion, which is not affected by water or steam, these lubricating pastes are also very suitable for corrosion protection. In order to prevent the paste from flowing out at the lubrication points and to avoid hardening or drying out, the copper pastes must have maximum heat resistance. These properties are essential for components that require long-term lubrication and high corrosion protection, such as brake components or friction linings in automobiles. This is where copper pastes find a preferential field of application.
Advances in mechanical engineering and the resulting increasingly stringent requirements have also led to new developments in such established areas as copper paste lubrication in the context of environmental protection.
MOLYKOTE® Cu-7439 Plus, proven in the market for many years.
The "plus" indicates an improvement in characteristics. MOLYKOTE® Cu-7439 plus copper paste meets today's high standards of corrosion protection and industrial requirements for safe and environmentally friendly use (lead and nickel free).
MOLYKOTE® Cu-7439 plus protects against fretting corrosion, reduces friction and wear, prevents seizing, blocking and squeaking of disc brakes, allows easy and convenient disassembly even after a long period of operation.
PLUS: better corrosion protection
In the salt spray test (DIN50021, room temperature, layer thickness 50 M), MOLYKOTE® Cu-7439 plus achieved a corrosion resistance result of 480 hours, which is currently required by the automotive industry. This is not only an improvement on the old formulation, but also an above-average result for a copper paste compared to competing products.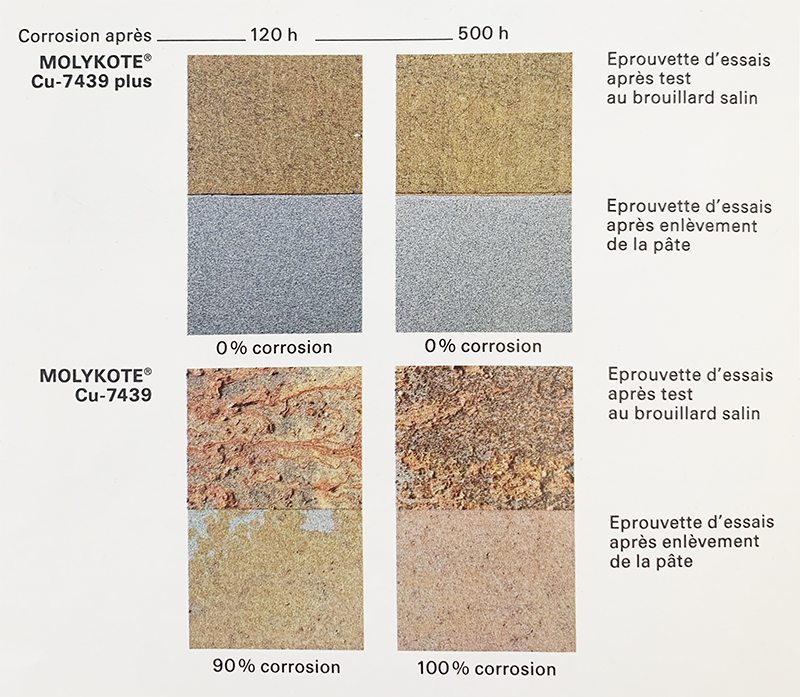 PLUS: better heat resistance
High temperature applications rarely exceed 300°C. Up to this level, MOLYKOTE® Cu-7439 plus retains its properties as a lubricating paste and all the advantages associated with it, thanks to a special base oil. In contrast, many pastes containing copper, zinc, nickel, etc. do not have this heat resistance, as the base oil (mineral or synthetic) evaporates at relatively low temperatures. Above 300°C, only an anti-sticking separation effect remains. The temperature indications of 1200°C, which can be found on some commercial copper pastes, are also technically dubious, as this corresponds to the forging temperature of steel and no mechanical parts can be functional at this temperature level.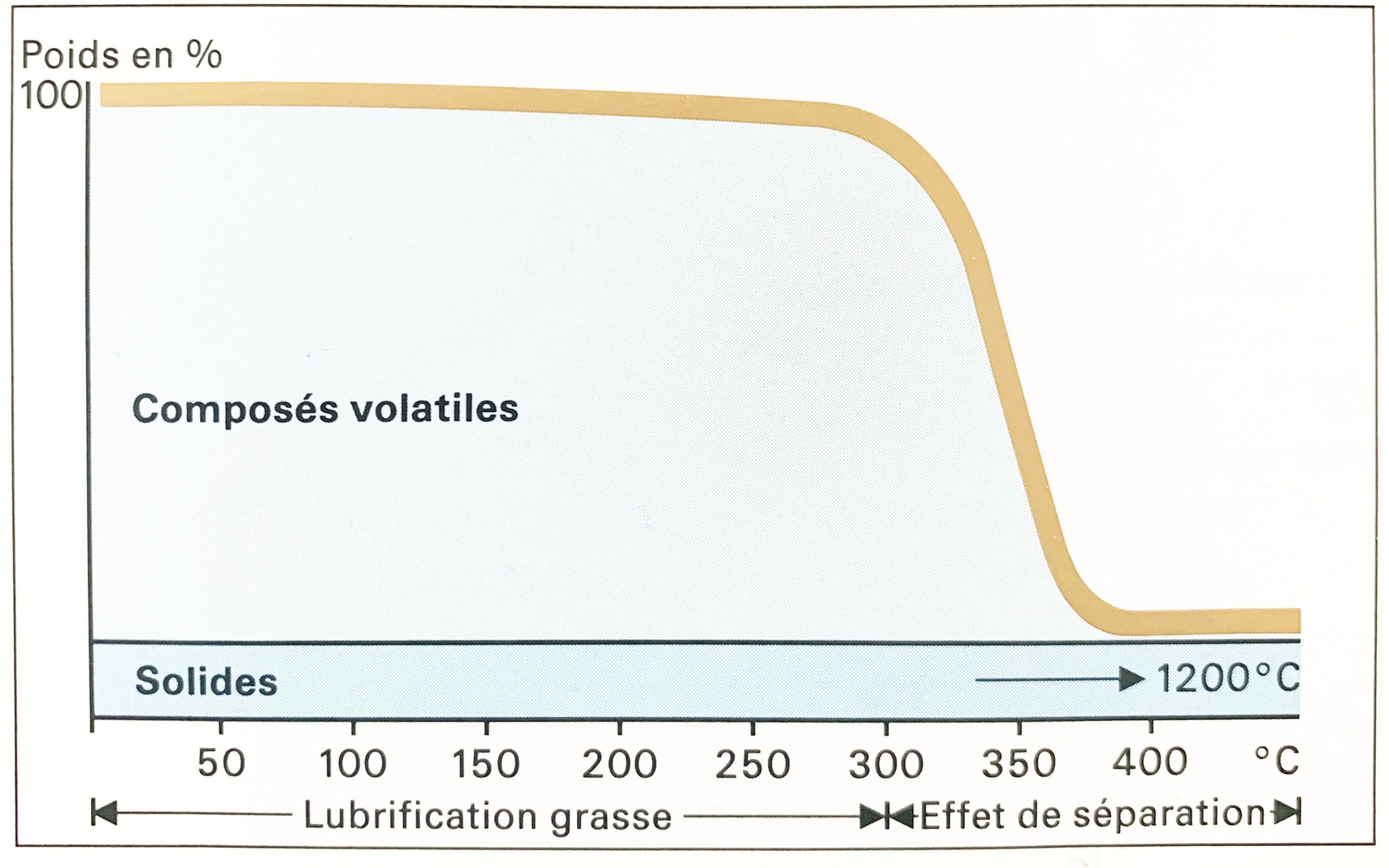 Temperature-dependent lubricity (weight loss of MOLYKOTE® Cu-7439 plus paste after 1 hour at different temperatures)
PLUS: better long-term lubrication
MOLYKOTE® Cu-7439 plus has excellent adhesion, does not stick or run and is therefore easily applied. The high-pressure water resistance test, in which a lubricated sheet was exposed to a 115 bar water jet at a distance of 25 cm in a sweeping motion, showed that more than 20% of the lubricating paste remained on the test piece. This excellent result, together with the low evaporation tendency (see below) of the MOLYKOTE® Cu-7439 plus paste, is a strong guarantee of long-term lubrication effectiveness.
MOLYKOTE® Cu-7439 plus is a copper paste of outstanding quality and performance, offering a safe, economical and technically reliable solution for its many applications.
MOLYKOTE® Cu-7439 plus adheres to virtually all metal surfaces and is suitable for use in industrial, automotive, rail and aviation applications as well as agricultural equipment.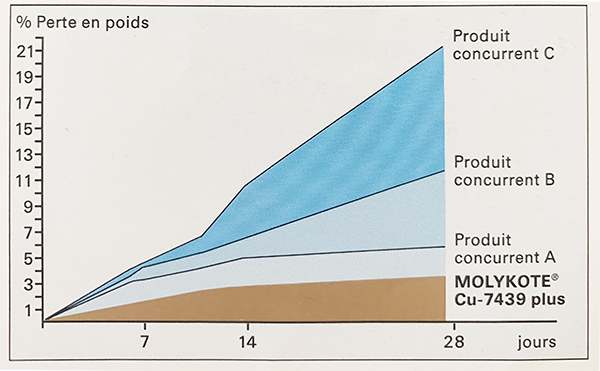 Evaporation test (loss by weight of 5g of paste exposed to 150°C for a period of 28 days)
Some examples of applications:
Its preferred areas of application are structural components or machine parts that require corrosion protection and are exposed to high temperatures and pressures, for example:
Bolts, studs
Screwed connections on pumps and valves
Brake guides
Sleeves
Brake discs
Drum brakes
Brake Cams
Flanges, flange linings
Pipe fittings
Screwed connections on exhausts
Intermittent joints
Brake rods
Sliding shafts/sleeves
Brake pad backs
Spark plugs, etc.
Instructions for use
Apply MOLYKOTE® Cu-7439 plus with a brush to clean, dry elements. Excess product is no problem. MOLYKOTE® Cu-7439 plus is suitable for use in central lubrication systems.
Packaging:
100 g tube
500 g can
Tin of 1 kg
Barrel of 5 kg
25 kg barrel
More info :
Need more information on MOLYKOTE® Cu-7439 or on lubricants MOLYKOTE® ? Contact our technical service on +33 426 680 680 or fill in our contact form.
You can also download our selection guide for industrial lubrication and maintenance: