Dow Corning introduce a new gap filler and a new adhesive
Dow Corning, the global leader in silicone technologies, continues to develop their thermal management and adhesive product range with the introduction of the new gap filler Dow Corning TC-4525, and the new adhesive Dow Corning EA-7100.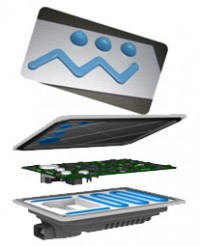 Dow Corning TC-4525, the new gap filler is a thermal interface material (TIM) with a thermal conductivity of 2.5W/m.K. A specific version with glass balls (180µm) is existing, the Dow Corning TC-4525GB.
In comparison with the printable pads (TC-4015 and TC-4025), the thickness will be upper (3mm) and can have a vertical holding position due to their thixotropic nature.
With a room temperature Vulcanization (RTV) of 2h, this time can be reduced at 10min with an upper temperature (80°C).
These new gap filler materials are available in packaging 3.2kg cartridge (semco 20oz), and 40 kg pails (20 l).
You will find all the products dedicated for the thermal management in our specific brochure available in free download here.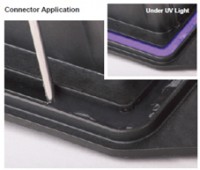 Dow Corning EA-7100 is a new silicone adhesive one-part, thixotropic, provides robust adhesion to a broad variety of substrates : Dow Corning EA-7100 adheres to several highly engineered plastics that are a challenge for traditional heat cures (PE, PPE, LCP, etc..) which allow to use low cost plastics.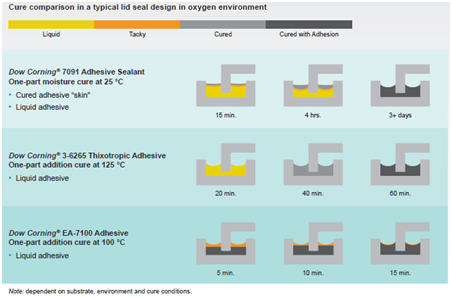 With faster cure times and/or lower cure temperatures, it develops adhesion that forms simultaneously with the cure to specific substrates.
This new adhesive material is available in 170g cartridge and 15 kg pail.