The NT-350HT Enduredge Max: The revolution in Out-Of-Autoclave prepreg resins with room temperature storage
In the field of composite materials, the search for new technologies and high-performance materials is constant. Nexx Technologies' NT-350HT Enduredge Max is a revolutionary example of the next generation of highly reinforced prepreg resins. Combining advanced resin chemistry with a unique prepreg architecture, this material offers exceptional properties for the manufacturing of high-quality parts. In this article, we will explore the features and benefits of NT-350HT, along with its innovative implementation process.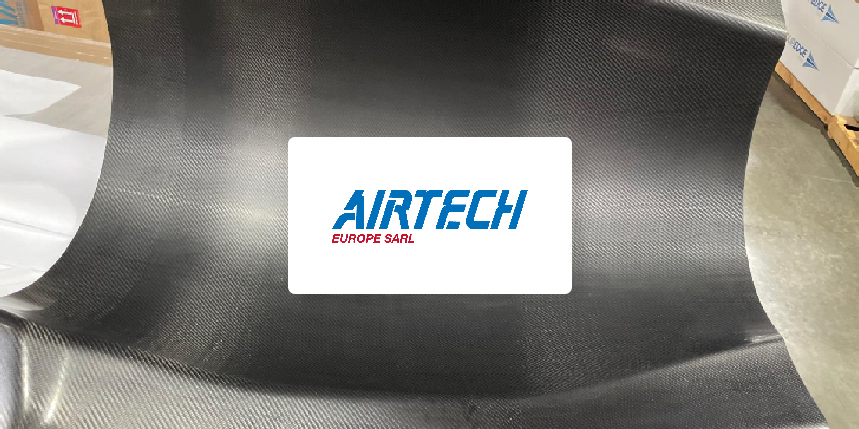 Superior Performance
NT-350HT stands out with its "out of autoclave" capability, thanks to a highly reinforced modified epoxy resin technology. Unlike traditional methods, this material offers a shorter curing cycle, with an initial step of 15 minutes at 80°C, followed by 60 minutes at 126°C under full vacuum. It exhibits excellent mechanical properties without requiring post-curing.
Exceptional Surface Finish and Storage
One of the key strengths of NT-350HT is its exceptional surface finish. A simple vacuum bagging process achieves superior surface quality, making it ideal for structural and aesthetic parts. Additionally, this material can be stored at room temperature (up to one year) without any loss of mechanical properties, reducing shipping, storage, and processing costs.
Flexibility and Ease of Use
NT-350HT offers increased flexibility through its ambient temperature storage capability. It can be used on-demand, without waiting or the risk of exceeding the usage time. Furthermore, internal air release channels within the material facilitate the production of large out-of-autoclave structures with simplified compaction and debulking processes. Even for thick laminates, NT-350HT ensures exceptional part quality without requiring autoclave usage.
Vacuum Bagging
To ensure optimal implementation of NT-350HT, following a precise vacuum bagging process is essential. Here are the necessary components and steps to follow:
Sealing Tape: Use a sealing tape such as AT200Y or GS213 to ensure a tight seal of your mold or part.
Prepreg: Utilize NEXX NT-350HT prepreg, which offers excellent mechanical properties and outstanding surface finish.
Peel Ply: Place a peel ply fabric such as 234 TFP, Release Ply C, or Release Ply B on the prepreg surface to facilitate easy demolding.
Release Film: Use a release film like Wrightlon® WL5200 or A4000 to prevent adhesion between the part and the mold.
Vacuum Bag: Employ a vacuum bag, such as KM1300, to envelop the part and create a sealed environment during the vacuum bagging process.
Breather Fabric: Position a breather fabric like Airweave N4 on the prepreg to allow air and excess resin evacuation during the vacuum bagging process. Tape: Utilize tape such as Flashbreaker 1 or Teflease MG2 to seal the different layers of materials and provide additional sealing.
Release Agent: Apply a suitable release agent to facilitate easy demolding of the part after curing
Maintaining vacuum throughout the curing cycle is crucial to ensure homogeneous and optimal polymerization of the prepreg.
"Out of Autoclave" Curing Cycle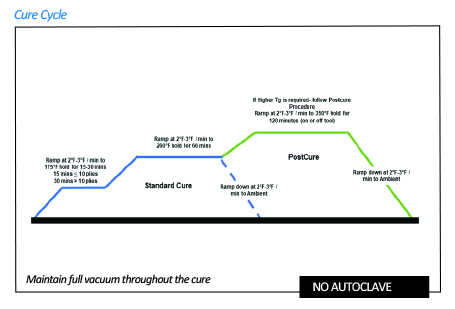 Curing Cycle for achieving a Glass Transition Temperature (Tg) of 125°C
Temperature Ramp-Up: Gradually increase the temperature from 1°C/min to 1.5°C/min until reaching 80°C.
Stabilization at 80°C: Maintain the temperature at 80°C for 15 minutes for a stack-up below 10 plies, or 30 minutes for a stack-up above 10 plies.
Temperature Ramp-Up: Then, raise the temperature to 120°C at a rate of 1°C/min to 1.5°C/min.
Stabilization and Curing: Keep the temperature at 120°C for 60 minutes to allow the polymerization reaction to occur.
Cooling: Gradually decrease the temperature to ambient temperature, decreasing at a rate of 1°C/min to 1.5°C/min.
To achieve a Tg of 155°C
If you wish to increase the Glass Transition Temperature (Tg) of NT-350HT from 127°C to 157°C, you can perform an additional post-curing following these steps:
After stabilization at 120°C: Once the temperature is stabilized at 120°C, proceed with temperature ramp-up to 175°C.
Stabilization at 175°C: Maintain the temperature at 175°C for 120 minutes to allow for additional polymerization reaction and increase the material's Tg.
Cooling: After stabilization at 175°C, let the material cool down to ambient temperature. Decrease the temperature at a rate of 1°C/min to 1.5°C/min for controlled cooling.
By following these steps, you can achieve a higher Tg of 155°C, which can be advantageous for applications requiring increased thermal resistance.
It is important to note that the post-curing process is optional and is only necessary if a higher Tg is required to meet the specific requirements of your application. If a Tg of 127°C is sufficient, you can simply follow the initial curing cycle without performing the additional post-curing.