Permabond 737 "Black Magic"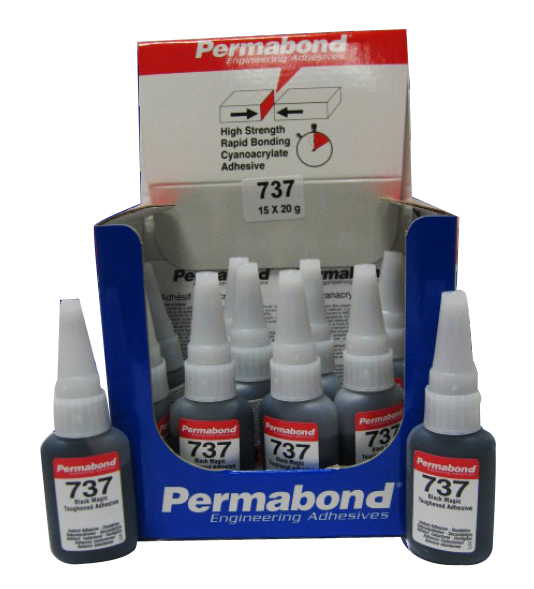 Permabond cyanoacrylate adhesives are instant adhesives that cure very rapidly (often in seconds) and form highly resistant and generally rigid bonds. Particularly suited for bonding small surfaces, they can be used on a wide variety of substrates (metal, plastic, rubber, foam, etc.).
Among the products in the Permabond range, Permabond 737 "Black Magic" offers a unique combination of very high mechanical strength (up to 25 MPa) and flexibility (increased shock and vibration resistance). It also exhibits good heat resistance (up to 120°C/248°F) and bonds many difficult-to-bond substrates*. For example, it bonds well to polyamide and is one of the only cyanoacrylates on the market able to correctly bond polyimide. Extremely versatile, it is the ideal solution for all types of instant bonding.
*Use Permabond POP primer for hard-to-bond rubbers (VMQ silicone, FKM fluoroelastomers, EPDM, etc.).
Download the technical data sheets and material safety data sheets here.
Discover the entire range of cyanoacrylate adhesives in our Cyanoacrylate Adhesives Selector Guide.