Samaro will be at WNE 2014 at the Parc des Expositions de Paris, Le Bourget – Booth N°2B-M22
Samaro will be at WNE 2014 at the Parc des Expositions de Paris, Le Bourget – Booth N°2B-M22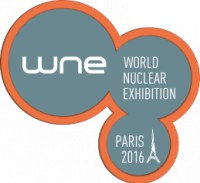 The very first global event focused on civilian nuclear power, to look after for new suppliers and expand its business internationally.
The opportunity for companies of all sizes to introduce their know-how and skills on a wide spectrum of decision makers.
This is the place to share experiences on exhibition spaces, technical sales workshops, networking cocktails, news conferences and high technological value site to visit.
Samaro invite you to visit its booth 2B-M22 to present its latest solutions applied to energy leading sector
If you want to already plan your visit you will find all the relevant information on the following link: www.world-nuclear-exhibition.com
Contact us if you wish to receive invitations (hard copy).