Today the assembly by adhesive takes over the mechanical assemblies in the world of industry? Why?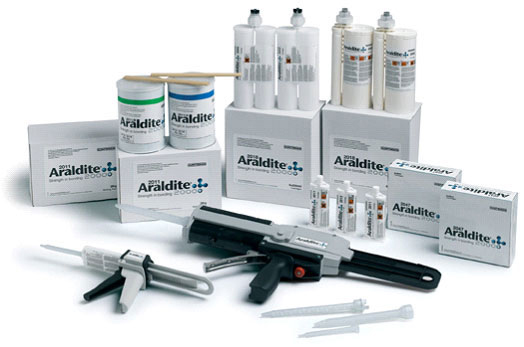 We have listed some of the reasons here, many of which will apply to you. And don't
forget our Araldite® trade name is known worldwide in industry and in the home as the
brand capable of bonding metals and plastics.
The advantges
Design flexibility
Dissimilar materials
Unlike welding Araldite can join metals to plastics, or aluminium to steel.
Complex assemblies
Ability to join unusual and complex shapes.
Finishing operations
Adhesive bonding gives a smooth appearance to designs.
There are no protruding fasteners such as screws or rivets, and no spot weld marks.
Light materials
By using Araldite® the heat from welding, soldering and braising techniques is removed which enables a reduction in material thickness.
Water tight joints
The removal of drilling operations prevents water ingress.
Increased productivity
Easy to use
Araldite® 2000 PLUS range products are available in cartridge or working pack to suit the individual application, and more people can use adhesives as they are not restricted to technical personnel.
Simplicity
Adhesive bonding can simplify assembly procedures byreplacing several mechanical fasteners with a single bond, or by allowing several components to be joined in one operation.
Time and cost savings
Reduced assembly times
By reducing the number of joining and finishing operations
the overall time can be reduced, saving on labour costs and allowing for more products to be assembled.
Reduced raw material costs
By joining and sealing in one go the number and cost of raw materials required is reduced. Araldite® gap filling adhesives can allow for poor part tolerances which can result in raw material cost savings.
Improved product performance
Fatigue performance
Increased fatigue performance extends the life of the end product in service.
Stiffer structure
The bonded joint – being continuous – produces a stiffer structure. Alternatively, if increased stiffness is not needed, the weight of the structure can be decreased while maintaining the required stiffness.
Corrosion protection
Araldite® reduces the effects of corrosion caused by other joining methods that use melting processes.
Vibration damping
Incorporated into the design adhesive bonds have good damping properties useful for reducing sound or vibration.
Focus on Araldite brand :
Download the Araldite adhesive selector guide : Here.