Why choose Molykote lubricants?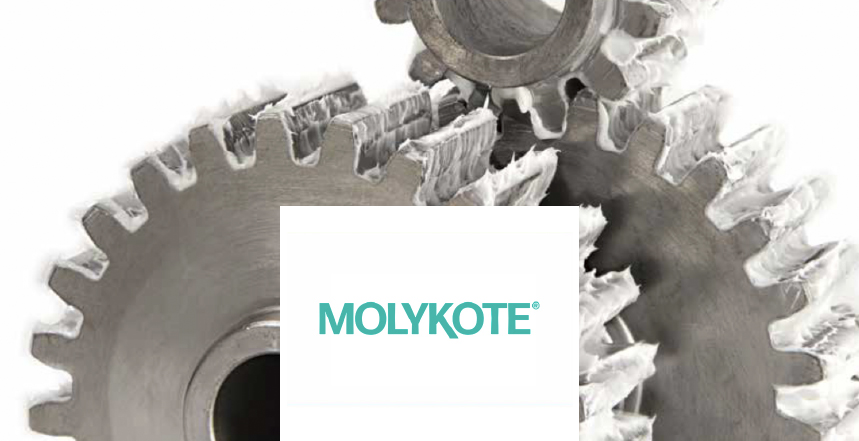 A longer life span
The superior performance of Molykote industrial lubricants is due to a proprietary additive package that significantly reduces oxidation rates. Oxidation, which results from exposure of the lubricant to high pressures and temperatures, can cause premature lubricant degradation.
The "technical" base chemistry of Molykote fluids makes them inherently more resistant to oxidation and emulsification than competitive products.
The resistance of our synthetic lubricants to oxidation and other contaminants provides several advantages:
Longer service life
More efficient lubrication
Less formation of waste products in the lubricant.
Our lubricants also meet the extreme temperature requirements of almost any application, with products formulated for extreme cold (-200°C or -328°F) as well as extreme heat (1400°C or 2550°F). And our oils last longer because they maintain extremely low water content throughout their life cycle.
Reduce your maintenance costs
Molykote brand products can help you realize the full value of your maintenance and repair investments. We can provide you with the precise combination of products and/or services you need to reduce your overall maintenance costs, extend the life of your equipment and simplify your purchasing process.
Expect nothing less when you choose Molykote as your preferred supplier for lubrication products and services.
Customer service and technical support
You get reliable customer service and expert technical support from Samaro.
DuPont's manufacturing controls and commitment to quality result in products with consistent performance properties, minimizing production disruptions due to variations in product quality.
| Machine elements | Typical application | Recommended products |
| --- | --- | --- |
| Rolling Element Bearing | | |
| | General Purpose | Molykote BR2 Plus, Molykote Longterm 2 Plus, Molykote G-4700 |
| | High Loads (> 3000 N Weld Load) | Molykote BR2 Plus, Molykote BG-20, Molykote HP-870 |
| | High temperature (>150°C) | Molykote BG-20, Molykote 44, Molykote G-4700 |
| | High speed (>250 000 Dn) | Molykote BG-20, Molykote BR2 Plus, Molykote 44, Molykote HP-870 |
| | Water wash-Out | Molykote Longterm 2 Plus, Molykote G-0102, Molykote G-4500 |
| | Chemical and Solvent Resistance | Molykote 3451, Molykote HP-870 |
| | Low speed, water wash-Out | Molykote 1122, Molykote P-40V1 |
| | Corrosion protection / Dry film | Molykote Metal Protector Plus |
| | | |
| Gears | | |
| Running-In | Running-In Lubrification | Molykote G-n Plus, Molykote G-Rapid Plus |
| Operation | | |
| Open gears | General purpose | Molykote 1122, Molykote 165 LT, Molykote G-67 |
| | Corrosion resistance | Molykote 1122, Molykote Longterm 00 |
| | High load(>3000 N Weld load) | Molykote Longterm 00, Molykote 165 LT |
| | Tacky, semi-fluid grease | Molykote Longterm 00 |
| | Fretting / film sec | Molykote D-321 R, Molykote 7409, Molykote D-10 |
| | Shock or vibration | Molykote 165 LT, Molykote G-4700 |
| Gear boxes | Noise reduction, extreme loads (dispersion) | Molykote M-55 Plus |
| Storage protection | Corrosion protection / Dry Film | Molykote Metal Protector Plus |
| | | |
| Threaded connections | | |
| Pre-Assembly | General purpose | Molykote P-74, Molykote G-Rapid Plus |
| | White paste | Molykote D, Molykote DX, Molykote P-1900 FM ANTI-SEIZE PASTE |
| | Consistant assembly torque | Molykote 1000 |
| | Metal free paste | Molykote P-74, Molykote P-40 |
| | Ultra-pure,avoidance of stress cracking | Molykote P-37 |
| Storage protection | Corrosion protection / dry film | Molykote Metal Protector Plus |
| | | |
| Chains | | |
| Greased chains | High speeds, water wash-out | Molykote 1122, Molykote P-40, Molykote MKL-N |
| Dry lubrication | Longterm lubrication, dusty environment | Molykote D-321 R |
| Oiled chains | High temps (>175°C) | Molykote M-30, Molykote CO 220 |
| | Extreme loads / high Mos2 content | Molykote M-30 |
| | penetrates with MoS2 | Molykote MKL-N |
| | Tacky synthetic, low temps | Molykote L-1428 |
| | Tacky synthetic, low temps (<-40°C) | Molykote L-1468 FM |
| Storage protection | Corrosion protection / Dry film | Molykote Metal Protector Plus |
More info
If you would like to know more about the MOLYKOTE® range, please contact our technical department on +33 426 680 680 or fill in our contact form. Download our selection guide