Samaro launches its new Model, Molding and Prototyping Selection Guide

This product selector's guide to modeling, molding and prototyping is designed to guide you to solutions that have already been proven in the industry.


Partner of Huntsman®, Obo®, Duna-Corradini®, Silastic® Acrystal® and Synthene® for products for PU, Epoxy, Acrylic and Silicone model and mold making in France.
Samaro® regularly edits selector guides dedicated to different sectors of activity as well as to different chemistries and technologies.
In this guide Samaro® offers you :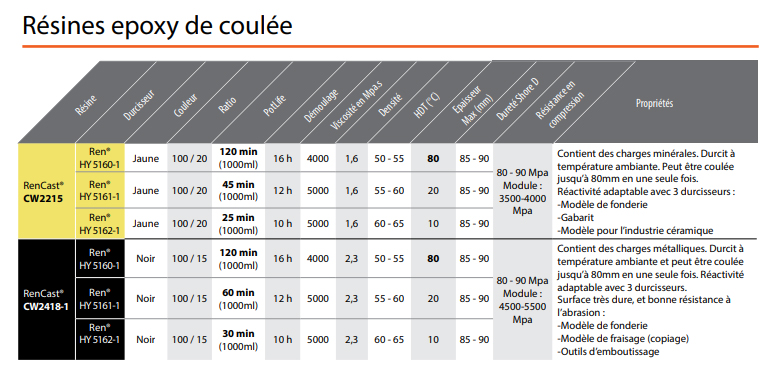 New Huntsman Epoxy Resin Hardener: Ren®HY5160-1(slow); Ren®HY5161-1(normal); Ren®HY5162-1(fast) (page 6 and 8)
New prototyping resins :
New HPR Synthene®: Soft / Hard 65 Shore D resin (page 12)
Synthene®PR500: high-modulus, translucent, UV-resistant vacuum casting resin (page14)
Synthene®PRF100: Food grade vacuum cast resin (page 17)
Silicone accessory product :
Xiameter®PMX200-50cts , PVA, Syl Off 4000 etc. (page 21)
Dilution tables for Silastic® RTV with Xiameter®PMX200-50cts (page 21)

New RenShape Epoxy board BM5060 (page 22)
Dispensing equipment / mixers
Vacuum Casting Accessories (page 29) with links to doc Vacuum Casting Equipment

With reminders :
You will find in this brochure the main part of our offer:
"Fastcast" polyurethane casting resins (RenCast®)
Flexible polyurethane casting resins (RenCast®)
Prototyping resins (vacuum casting resins) (Synthene®)
Acrylic resins
Molding silicones (Silastic®)
Modelling products (RenPaste®)
Epoxy repair resins (Devcon®)
Machinable boards (Duna-Corradini®)
Adhesives dedicated to Models and Moulding
Accessory products and tools.
More information :
Need information about our Modelling, Molding and Prototyping range? Contact our technical department at +33 426 680 680 or fill in our contact form.
Download our new Modelling, Molding and Prototyping selector guide.